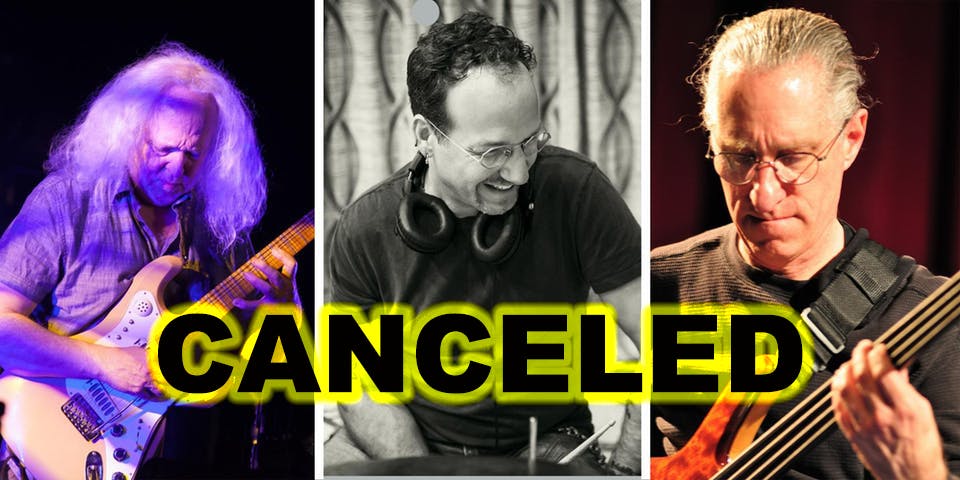 Trees Move Air - a night of improvised music
David Torn, Scott Amendola, and Michael Manring
David Torn, Scott Amendola, and Michael Manring in: Trees Move Air - a night of improvised music
Torn/Manring/Amendola in "Trees Move Air"
DAVID TORN-GUITAR
MICHAEL MANRING-ELECTRIC BASS
SCOTT AMENDOLA-DRUMS/PERCUSSION/ELECTRONICS
Pre-Show Conversations: Berkeley-based music journalist Andrew Gilbert will interview David Torn, Michael Manring, and Scott Amendola from 7:15-7:45 on the stage, before the show begins. FREE for all ticket holders!
The meeting of David Torn, Michael Manring, and Scott Amendola was inevitable, one could say. The amount of common musical ground is perfect for these three unique voices to create sound together. All masterful improvisors, the 3 also have a penchant for song structure, space, other worldly sound, raw energy, and are team players at the core.
Trees Move Air… these three forces of music coming together will create breaths of the earth… See you there.
David Torn
David's distinct guitar playing can we heard on a wide range of musical offerings. A trail blazer with the guitar, he has never stopped trying to reinvent what defines where the guitar can go. A pedal master, David creates sounds one wouldn't have thought the guitar could make. He's inspired all kinds of musicians from around the world, and continues to push the envelope. From Rock legends to downtown improvisors, David leaves no stone un-turned.
THIS SHOW HAS BEEN CANCELED
Scott Amendola
"If Scott Amendola didn't exist, the San Francisco music scene would have to invent him." Derk Richardson, San Francisco Bay Guardian
For Scott Amendola, the drum kit isn't so much an instrument as a musical portal. An ambitious composer, savvy bandleader, electronics explorer, first-call accompanist, and capaciously creative foil for some of the world's most inventive musicians, Amendola applies his rhythmic virtuosity to a vast array of settings. His closest musical associates include guitarists, Nels Cline, Jeff Parker, Charlie Hunter, Hammond B-3 organist Wil Blades, violinists Regina Carter and Jenny Scheinman, clarinetist Ben Goldberg, players who have each forged a singular path within and beyond the realm of jazz. Over a career spanning more than three decades, Amendola has forged deep ties across the country, and throughout the world.
Michael Manring
Michael Manring has probably the most unique approach to the electric bass in history. Known more for his work as a solo artist, Manring has pushed the electric bass way beyond and is hailed around the globe for his masterful playing. He is also known for genre bending, and the scope of his musical abilities is vast and wide. From Rock, to textural, to jazz inspired music. Michael has one of the deepest pockets in the world of groove as well.
Youth/Student discount tickets are available by using the access code: STUDENT.