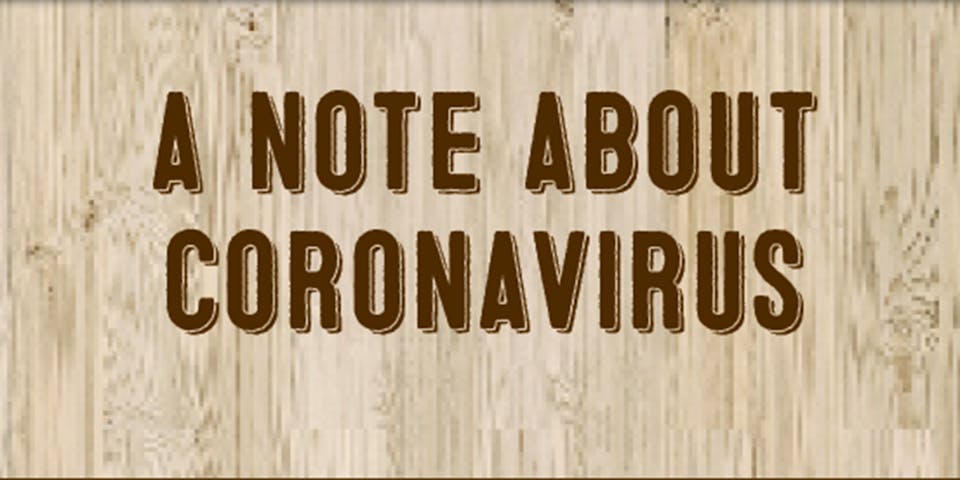 THE FREIGHT WILL BE CLOSED THRU 4/17
A Note About Coronavirus 3/13
$0.00
Sales Ended
On Freight & Salvage
last updated: March 16, 2020
The Freight has long been a haven during challenging times, and now is no exception. At this time, we have had a few events reschedule, postpone or cancel due to artist availability. All other shows, classes, workshops & other events are proceeding as usual - none are canceled or postponed. We continue to monitor the situation, and we will update this page (thefreight.org/coronavirus) if that changes.
EVENTS IMPACTED AT THE FREIGHT - SHOWS
Thu 3/11 Tumbledown House - canceled
Fri 3/13 Peter Yarrow and Noel Paul Stookey - rescheduled to Sat 8/29
Sat 3/14 Peter Yarrow and Noel Paul Stookey - rescheduled to Sun 8/30
Sun 3/15 The Black Brothers - canceled
Sat 3/21 Patchwork Series: Gustafer Yellowgold - tour canceled
Fri 3/27 Caitlin Canty & Noam Pikelny - postponed due to artist availability
Thu 5/7 Dakh Daughters - canceled due to artist availability
Wed 6/10 Pierre Bensusan - tour canceled
EVENTS IMPACTED AT THE FREIGHT - CLASSES/WORKSHOPS/JAMS
In-person Freight Singers rehearsals are canceled until further notice. The Chorus Directors are exploring online options.
All upcoming Jams and Freighter Tots events are canceled.
As of right now, the Freight will not be holding any classes onsite this session (March-April) but some classes will have online capability.
Please contact Director of Education and Community Engagement PC Muñoz with any questions about classes during this time: pcmunoz@freightandsalvage.org
WHAT WE'RE DOING AT THE FREIGHT
We want to let you know that we are taking extra precautions to prepare for Coronavirus Disease (COVID-19), including additional cleaning procedures at opening and closing and after every use of the facility; maintaining ample stock of paper towels, soap, and cleaning supplies; making hand sanitizer readily available; and more.
WHAT YOU CAN DO TO HELP
You can help us by practicing healthy behaviors that prevent the spread of germs:
Wash your hands often with soap and water for at least 20 seconds.
Don't touch your face with unwashed hands.
Use alcohol based hand sanitizer when soap and water aren't available. Look for one with at least 60% alcohol.
Avoid contact with people who are sick.
Stay home when you are sick.

If you are unable to make it to an event at The Freight, please contact our box office (at 510-644-2020 or reservations@freightandsalvage.org) to discuss your options.
RESOURCES