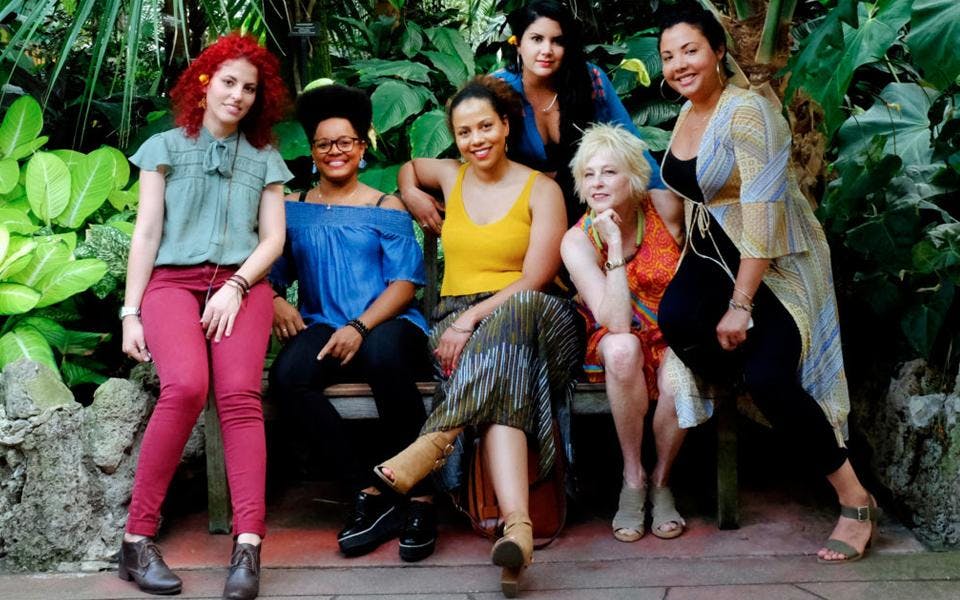 Dance Floor Open! Raices: A Series Curated by John Santos
Afro-Cuban New Year's Eve Dance Party
Jane Bunnett & Maqueque, Yissy Garcia, Louie Romero Y Su Grupo Mazacote
$40.00 - $80.00
Sales Ended
Afro-Cuban New Year's Eve Dance Party with Jane Bunnett & Maqueque feat. Yissy Garcia and Louie Romero Y Su Grupo Mazacote
**Ernest Brown of Rueda Con Ritmo will be teaching a salsa lesson from 8 to 9pm
With Maqueque, Jane Bunnett has created something new and phenomenal in the world of jazz. What started out five years ago as a project to record and mentor young brilliant Cuban female musicians, has become one of the top groups on the North American jazz scene. In the last year, they have played in major jazz festivals like Newport and Monterey, been featured on NPR's program Jazz Night in America, were nominated for a Grammy Award for their newest release, Oddara, and, most recently, were voted as one the top ten jazz groups by the prestigious DownBeat magazine's critics poll.
Yissy Garcia–a composer and drummer- is one of the most powerful artists of this new generation of Cuban musicians. There is a lot of groove in her drumsticks, and a lot of creative impulse in her. At the age of 30, the important things for her are rhythm and the way emotions are trapped by the sound language, as if the drums were just an extension of her body. The important things are ambiguity, the fusion between tradition and avant-garde, her ways of blurring the boundaries of Latin jazz, electronics, funk, R & B, Afro-Cuban music.
Yissy –a daughter of percussionist Bernardo García, founder of Irakere and Arturo Sandoval's band- was born on May 29th, 1987 in Cayo Hueso, a slum in Havana that has been the birthplace of other icons of Cuban music such as Chano Pozo and Gonzalo Rubalcaba. Since she was a child, she was surrounded by a musical environment and joined her father to his Irakere rehearsals.
Louie Romero Y Su Grupo Mazacote
"One of the premier salsa ensembles in Northern California." - Latin Beat Magazine
Mazacote is the hard-swinging, old-school salsa group of legendary percussionist Louie Romero, who came to fans' attention as the longtime timbales player for famed salsero "El Cantante" Hector Lavoe. Louie is also renowned for his work with Willie Colón, Rubén Blades, Celia Cruz, Ron Carter, and other salsa and jazz stars in his native New York.
Based in San Francisco, Mazacote plays a crowd-pleasing, high-energy mixture of classic salsa favorites and original latin jazz tunes.
Recently, the band released the album "Timbalero." The album is filled with soulful and danceable salsa, cha-cha, latin jazz, Cuban guajira, and bomba — and it's receiving rave reviews from dancers, DJs, and music critics alike.
Raices
Contemporary (Latino) American Music
Curated by John Santos
A concert series of diverse Latino (American) music representing hemispheric creativity in a wide range of formats interpreted by several of the most dynamic interpreters in the field. The term America in its true sense refers to North, South and Central America as well as the Caribbean islands. Accordingly, Latin American music defies brief descriptions. Folk styles and rhythms in traditional and evolutionary settings, dance music and jazz play seminal roles in this series.
Tonight's event will be hosted by Jesse "Chuy" Varela!
For KCSM 91.1 FM's Music Director Jesse "Chuy" Varela, music roots have run deep.
From an early age, Chuy was fascinated by music, playing the guitar in Mexican bands and in the army. He attended Cal State Hayward where he majored in music. But after realizing that music would probably not be a lucrative career, he switched to mass communications where he studied print, TV and radio. He worked at the college's cafeteria radio station with KCSM's Clifford Brown Jr. and Keith Hines.
Hear Jesse 'Chuy' Varela on Latin Jazz, Sunday afternoons from 2pm to 6pm, and on Jazz in the Afternoon, Monday through Wednesdays from 2pm to 6pm.