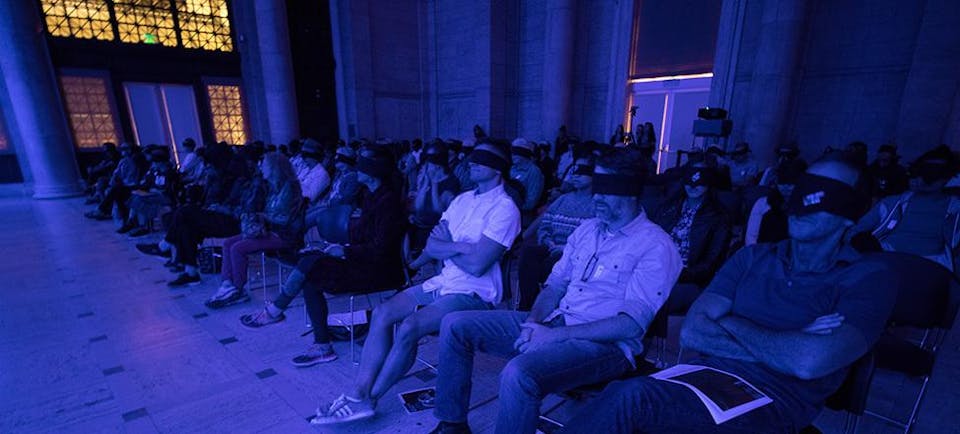 Aireene Espirity & A Color-Coded Symphony at Freight & Salvage in Berkeley, CA
Pre-show chat: from 7:15-7:45 in the showroom, Berkeley music writer Andrew Gilbert will interview Aireene Espiritu onstage about A Color Coded Symphony. Learn how the project came about, the various musical traditions she has explored through the project thus far, the intent of the project artistically and socially, and what the audience can expect from the experience.
All tickets are subject to an additional $4 per ticket facility fee.
A Color-Coded Symphony is a performance piece by singer/songwriter Aireene Espiritu that carries listeners through songs and sounds — a lullaby from a childhood growing up in the United States, a folk song from another country, rhythms from regions connecting the audience to their ethnic origins.
The first half of the concert will be performed in the dark, for when we listen with our eyes closed, we allow more room to receive, be open and be touched by what we hear. Every performance is unique based the audience's ethnic origins as well as a different featured country for each show.
(Attendees will be asked to fill out an ethnic origin card)
Through this musical experience, Espiritu aims to nurture intercultural openness and explore how we are connected to the rest of the world.
"We are fortunate to live in a colorful city that provides access to an array of languages, religions, cultures, cuisines, music and arts. Still, wherever we are, it is human nature to judge and be judged based on our ethnicity, skin color, gender, etc. I've learned from my share of judgments, and I have also personally felt the sting of being judged: to be told as a little girl to go back to my own country, to be banned from meeting a boyfriend's family because I am not white. I wanted to say, 'If you only got to know me, I think you'd like me. If you were blind, maybe you would see better.' There seems to be more emphasis on our differences, the us versus them, the fear and discomfort of the unknown. How can we be more empathetic and curious toward one another, and lessen our tendency to prejudge?
In music, there are fewer boundaries that separate us. There are similarities in rhythms and themes from all around the world. Music can affect our emotions even when we don't understand the words."
— Aireene Espiritu
Aireene Espiritu
Aireene Espiritu"A rare breed of artist, a soul singer, a folk troubadour, a blues artist, a busk show princess, a skiffle tear-stained street singer with a heart as big as the history of the music that drives her. And in the final analysis, she is a storyteller without borders or cultural limitations." - No Depression, Terry Roland
Aireene Espiritu is a singer/songwriter with over 20 years experience performing as a solo artist as well as with her band, Aireene & The Itch, covering various genres from folk, blues, gospel, rhythm and blues to world music - a mix of stompin', swayin', and timeless Americana.
She was born in the Philippines and moved to the United States at 10 years old, growing up in the third culture: the old country, the new country and a blend of both worlds. Mainly influenced by listening to Alan Lomax's field recordings from the South and growing up listening to her uncles' Filipino folk guitar fingerpicking, her music is reminiscent of front porch storytelling, of ghosts and the living, times of laughter and tears.
Her fifth album, Back Where I Belong (2016), pays tribute to the great rhythm and blues artist Sugar Pie DeSanto along with favorite American and Filipino folk songs produced produced by Little VillageFoundation, a non-profit label founded by venerable blues keyboardist JimPugh (Robert Cray, Etta James, B.B. King, John Lee Hooker). The album has received positive recognition and reviews from KQED's The California Report, San Francisco Chronicle, Living Blues and No Depression magazines. 4.5 out of 5 stars review All About Jazz.
A Color-Coded Symphony is her latest project which premiered at the San Francisco Asian Art Museum in 2017. This performance piece is a musical experience connecting the audience's ethnic origins to rhythms of the world and whose aim is to nurture curiosity and openness towards other cultures through music.
Aki Kumar
Aki KumarIndian-born, San Jose-based Aki Kumar left his home in Mumbai for the United States with the intention of working as a software engineer. Then he discovered the blues, and his life dramatically changed.
With his Little Village Foundation debut, "Aki Goes to Bollywood", Kumar began integrating elements of Indian music into his musical and visual presentation, making for a multi-cultural mash-up that sounds like no one else, yet never loses touch with its blues foundation. Kumar's follow-up album, "Hindi Man Blues", boasts his most ambitious cross-cultural fusion to date, and features liner notes by veteran blues great Charlie Musselwhite. Kumar recently performed at the prestigious Hardly Strictly Bluegrass festival, has been featured on PRI "The World," and has toured in Russia, South America and Scandinavia.
Hailed as a star among the next generation of West Coast blues artists and versatile in many different styles of roots music, Kumar is equally at ease rocking a Jimmy Reed number in English as he is belting out a signature, swingin' re-interpretation of a Bollywood classic in Hindi. Cleverly crafted originals featuring his masterful blues harmonica riffs are a highlight of this charismatic entertainer's live performances.