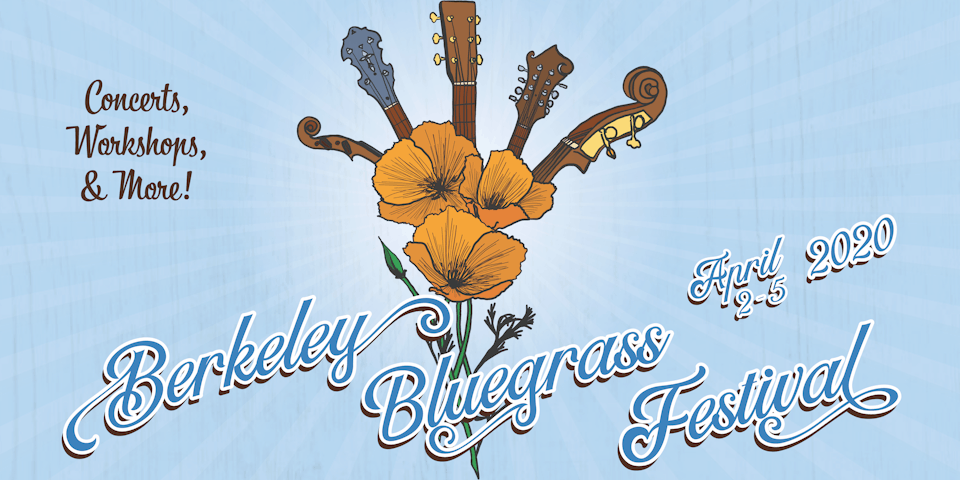 Berkeley Bluegrass Festival - Friday
Peter Rowan with David Nelson, Eric and Suzy Thompson, Scott Law, Darol Anger and Paul Knight performing the Jerry Garcia acoustic song book!, Trout Steak Revival, Missy Raines, Anna Daisy
Berkeley Bluegrass Festival - Friday
Peter Rowan with David Nelson, Eric and Suzy Thompson, Scott Law and Darol Anger performing the Jerry Garcia acoustic song book!
Grammy-award winner Peter Rowan is a singer-songwriter with a career spanning over five decades. From his early years playing under the tutelage of Bluegrass veteran Bill Monroe, to his time in Old & In the Way and his breakout as a solo musician and bandleader, Rowan has built a devoted, international fan base through a solid stream of recordings, collaborative projects, and constant touring.
David Nelson and Eric Thompson's musical friendship goes back to 1962, when they met as bluegrass-playing teenagers living on the Peninsula (it wasn't called Silicon Valley then!). In those early years, they played in many bands together, including the Black Mountain Boys with Jerry Garcia (you can hear a recording of this band on the recent "Before the Dead" box set, with Eric tearing it up on the guitar while Jerry sings "Rosalie McFall"; David played mandolin.). David Nelson went on to form the New Riders (featuring Jerry Garcia on pedal steel) while Eric explored many kinds of acoustic music, but the two maintained their friendship and continued to play music together for fun. About 10 years ago, David and Eric started playing occasional acoustic duo shows, and it was natural to invite Suzy to join them on fiddle. As a trio, often joined by Paul Knight on bass, they have continued to play rooms as big as the Warfield and as small as Jeff Da Chef's living room.
David Nelson is a founding member of the New Riders of the Purple Sage and long time musical partner of Jerry Garcia's dating back to 1962 in the pre-Grateful Dead bluegrass band, The Wildwood Boys. Nelson was also a member of the Jerry Garcia Acoustic Band and performed on three Grateful Dead albums – Aoxomoxoa, Workingman's Dead & American Beauty – playing the character laden electric guitar solo on Box of Rain. Nelson has also performed as a member of Phil Lesh and Friends.
Eric & Suzy Thompson have devoted their lives to the pursuit of weird and obscure old-time American music – warped fiddle tunes in odd tunings, cinematic ballads, country blues songs that contain mysterious metaphors, early Cajun music with incomprehensible French lyrics and backwards chords. Using fiddle, mandolin, guitars, Cajun accordion, banjo (and the occasional odd instrument such as the ten-stringed cuatro) they bring these early 20th century sounds right into the present day.
Multifaceted artist Scott Law is a powerful instrumentalist, singer­-songwriter and raconteur operating at the very highest level of his craft. Hailed as an "esteemed flat-picker" by Acoustic Guitar magazine, Law is equally reverent and inventive on electric guitar, acoustic guitar and mandolin and sought after as both leader and accompanist.
Fiddler, composer, producer and educator, Darol Anger is at home in a number of musical genres, some of which he helped to invent. Exceptional among modern fiddlers for his versatility and depth, Anger has helped drive the evolution of the contemporary string band through his involvement with numerous pathbreaking ensembles such as his Republic Of Strings, the Turtle Island String Quartet, the David Grisman Quintet, Montreux, his Duo with Mike Marshall, and others.
Peter Rowan | Dave Nelson | Eric & Suzy Thompson | Scott Law | Darol Anger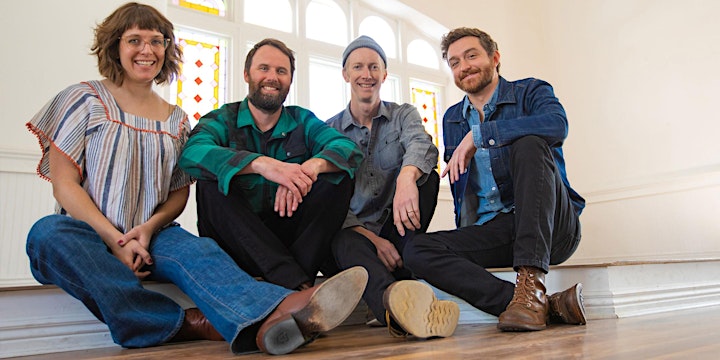 Trout Steak Revival
Ever since winning the 2014 Telluride Bluegrass Festival Band Competition, Trout Steak Revival has quickly become the quintessential Colorado string band. The band won an Emmy Award for a soundtrack they contributed to a Rocky Mountain PBS. They have collaborated with school children in mentoring programs in both Denver and the mountain communities. Their music is featured on Bank of Colorado's radio and television advertisements. Most recently, Westword named them Denver's Best Bluegrass Band and they were nominated as a Momentum Band of the Year by the International Bluegrass Music Association.
Defined more by expressive songwriting and heartfelt harmonies rather than any one genre, Trout Steak Revival crosses over and blends the bounds of folk, indie, bluegrass, and roots evoking its own style of Americana. With four band members all contributing unique lyrics, lead vocals, acoustic instrumentation, and harmonies, Trout Steak Revival delivers memorable tunes to an energetic fanbase that grows hand-in-hand with the band.
Missy Raines
Missy Raines is a true icon in bluegrass music. She is 8 time International Bluegrass Music Association Bass Player of the Year winner and on her Grammy-nominated album, "Royal Traveller", produced by Alison Brown, Raines comes into her own as a vocalist and songwriter on a collection of songs that reflect the breadth of her musical vision. The album's first single "Swept Away", written by Laurie Lewis, features the First Ladies of Bluegrass: Missy, Molly Tuttle, Sierra Hull, Becky Buller and Alison Brown, all of whom, like Missy, were the first women in the history of the IBMA to win Instrumentalist of the Year awards on their respective instruments. "Swept Away" was named 2018 IBMA "Recorded Event of the Year".
Another tune from Royal Traveller, "Darlin' Pal(s) of Mine", featuring Alison Brown, Todd Phillips and Mike Bub received the 2019 IBMA Recorded Event of the Year award.
Website | Facebook
Anna Daisy
Anna Daisy is a 15-year-old flatpicking guitarist and vocalist based in El Dorado County who Bluegrass Today called a "whiz-kid." Her repertoire spans from hard-core bluegrass and driving oldtime to melodious Americana.
Daisy's musical journey started at the age of six when she sang and picked her first songs and tunes with her parents and sister as the El Dorado Family Band. She then co-founded the Rambling Minors, a popular youth bluegrass band, where she had the opportunity to play live on radio stations, KVMR and KPFA. KQED's California Report featured the band in May 2016. She recorded an EP-length CD with the Rambling Minors. Next, Daisy co-founded another popular youth bluegrass band: North Country Blue. Daisy, as a part of North Country Blue, played the Strawberry Music Festival, was featured on Insight with Beth Ruyack in 2019, played Viva Las VeGrass, and recorded a full-length album. Two of Daisy's originals, The Counting Song and Ruby High, were featured on the album. Daisy played the Califonia Bluegrass Association's Father's Day Festival with Rambling Minors and North Country Blue. Daisy has represented the California Bluegrass Association's Youth Program at the International Bluegrass Music Association's World of Bluegrass five times. Her original tune "Remy's Breakdown" won 2nd place in the Mike Auldridge Instrumental Composition Contest here.
Anna Daisy: Guitar, vocals
Kathy Barwick: Guitar, bass
Alex Sharps: Fiddle
Youth/Student discount tickets are available by using the access code: STUDENT.