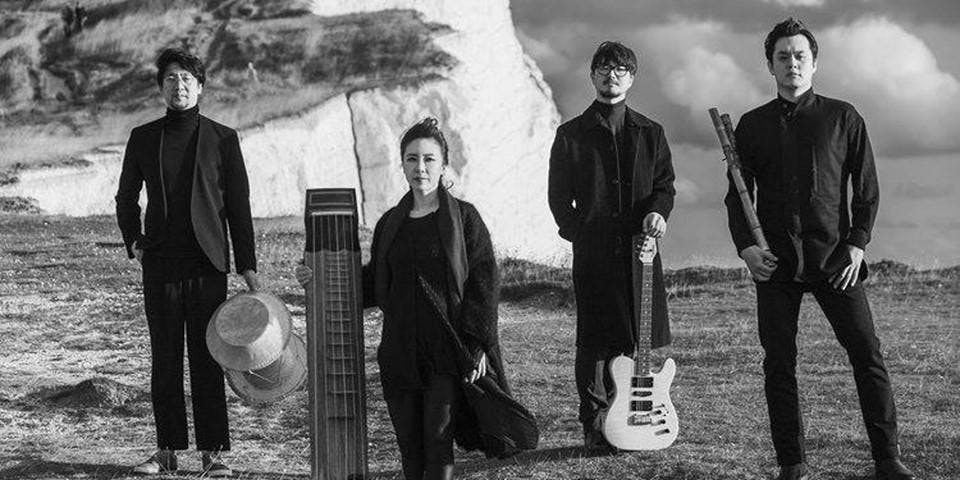 Black String
"Black String make you wonder how rock coped for 65 years without the geomungo. " - Mojo
Black String seeks a new sound that can incorporate a variety of expressions in traditional music, as well as harmonize with other expression in world music. This new sound will be interpreted by artists who embrace traditional music as well as jazz, reflecting both composed and improvised creations. The group features Yoon Jeong Heo (geomungo), Jean Oh (electric guitar), Aram Lee (daegeum, yanggeum) and Min Wang Hwang (ajaeng, janggu), Black String especially focuses on improvisation as an important aspect of Korean traditional music and attempts to create a unique language through Asian intuition and musical idiom.
블랙 스트링이라는 이름은, '검을 현(玄)'에 '거문고 금(琴)'을 써서 '현금'이라 불리우는 한국의 전통 악기, '거문고'의 이름에서 비롯되었다. 또한 동시에, 동양에서 우주를 상징하는 검은색(black)과 한국 음악이 지닌 선(율)적인 면을 상징하는 스트링(string)이 합쳐져 가장 한국적이고 동양적 색채를 지니지만, 세계인이 공감할 수 있는 독창적이고 범 우주적인 음악관을 표방하는 이름이기도 하다.
블랙스트링은 한국 전통음악에 기반을 두고 있지만 재즈, 일렉트로닉, 락, 미니멀리즘, 아방가르드 음악 등 장르의 경계를 허무는 현대적이고 독특한 아름다움이 담긴 음악을 선보이고 있다. 거문고 명인 허윤정을 주축으로, 자신만의 독창적인 음악색깔로 주목 받는 기타리스트 오정수(서울예대 교수), 전방위 대금 연주자 이아람, 그리고 역동성과 섬세함을 겸비한 타악 연주자이자 소리꾼인 황민왕이 함께 하고 있다.
블랙스트링은 2012년 런던 재즈 페스티벌 무대에서 첫 공연을 선보인 이후 뉴욕 링컨센터, 워싱턴 케네디센터, 덴마크 로스킬데 페스티벌, 런던 재즈페스티벌, 뉴욕 윈터 재즈 페스티벌 및 프랑스, 스페인, 독일 등 전 세계 유수의 공연장과 페스티벌의 초청 투어를 이어오고 있다. 특히 2016년에는 월드뮤직엑스포(WOMEX)의 공식 쇼케이스에 초청되었고, 2018년에는 영국의 저명한 음악전문지 송라인즈(Songlines) 뮤직어워즈에서 한국 음악가 최초로 아시아&퍼시픽 부문을 수상하는 영광을 얻었다. 한편, 제14회 한국대중음악상 재즈&크로스오버 최우수 연주상을 수상하는 등 국내/외에서 그 음악성을 인정받고 있다.
This program is supported in part by the Korean Foundation for International Cultural Exchange as part of Traveling Korean Arts Program, and Korean Cultural Center, Los Angeles. Black String's tour is organized by SORI.