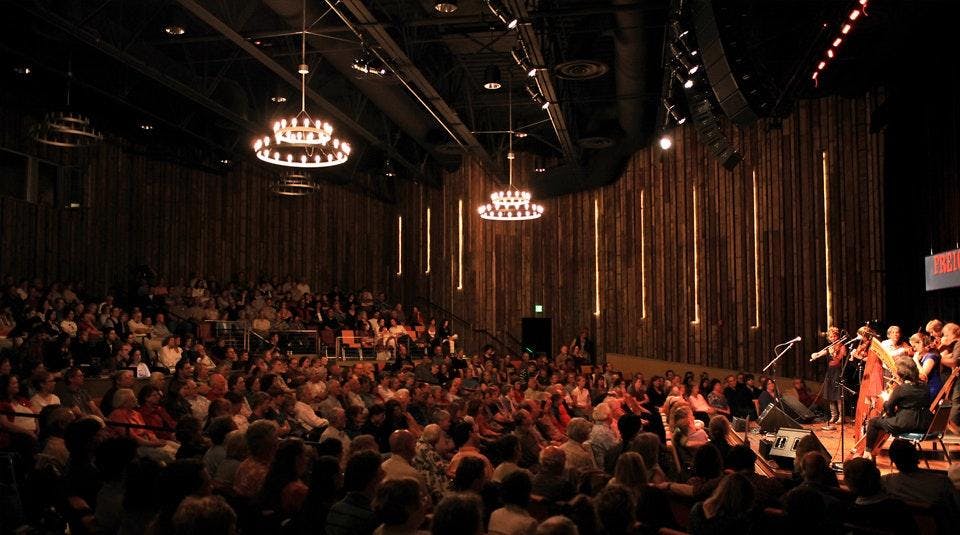 An amazing 3-day experience!
Bluegrass Band Camp
Bill Evans, Kathy Kallick, Avram Siegel, Jack Tuttle, Dix Bruce
Bluegrass Band Camp with Bill Evans, Kathy Kallick, Avram Siegel, Jack Tuttle, Dix Bruce, & Brian Walker
Saturday, Sunday, and Monday January 18-20, 2020.
10am-4:30pm on Saturday and Sunday
10am-3pm on Monday
Camp concludes on Monday afternoon with student band performances onstage at the Freight.
For all bluegrass instrumentalists, intermediate to advanced. Camp is limited to 40 participants with musicians grouped into bands based on experience level. Enrollment numbers will be limited on each instrument to achieve a balance of instruments in each band. Early enrollment is recommended.
Students are invited to attend as individual musicians or as full or partial bands.
$375 includes all classes & workshops. no meals provided but students can enjoy lunch in the Freight's lobby cafe or in downtown Berkeley.
In this first-ever Freight Bluegrass Band Camp, participants will deepen their appreciation and understanding of bluegrass ensemble playing through hands-on workshops and professional coaching of student bands. Students will be grouped into four- to six-piece bluegrass bands based on ability and experience level and work up songs for an on-stage Freight performance for family and friends on Monday afternoon.
The emphasis will be on having fun while experiencing the joy of playing bluegrass music with others in a stress-free and encouraging learning environment. For more advanced students, this camp provides the unique opportunity to take your ensemble playing to a new level through the challenges of playing in a real bluegrass band.
Workshop sessions will explore these and other topics;
Getting to know your bandmates and making your band sound its best: Enhancing interpersonal band dynamics and playing to the strengths of everyone in your group.
Choosing material and working out arrangements: What are the best kinds of songs for your band to play Choosing key and tempo, ordering instrumental solos and back-up, working out vocal harmonies and the aesthetics of arranging.
Taking your band to the next level: Making the best of your group rehearsal time, finding your groove, using dynamics, deepening your understanding of your role in the band.
Taking the stage: Using microphones and a PA system, putting together a great set, creating a compelling band image, grabbing your audience with effective emcee work, overcoming performance anxiety.
Over this three-day camp event, most bands will work up two songs from scratch and play these songs for students, family and friends onstage on Monday afternoon through a PA system. In the process, students will choose material, create arrangements, work out instrumental solos and vocal harmonies, and rehearse and perform these songs onstage at the Freight under the guidance of our world-class faculty.
Questions? Contact camp director Bill Evans at bill@billevansbanjo.com.
Pre-requisites: This class is for those who play bluegrass instruments (guitar, banjo, mandolin, fiddle, dobro and bass). At a minimum, participants should know how to fret major and minor chords and be able to play basic bluegrass accompaniment patterns on their instrument. While some experience playing with others in jam sessions is strongly recommended, students do not have to have any prior experience rehearsing and playing in a band. Please note that more advanced students who are looking to play with other musicians at a similar level are welcome at this camp.
If you're an aspiring lead instrumentalist, you should be able to successfully play one or more tunes. Guitar and banjo players should also have some familiarity with using a capo in order to play comfortably in a variety of keys. Use of written materials (sheet music, tablature) will be discouraged at this camp, however singers are invited to bring lyric and chord books. Video and/or audio recording of workshop sessions is encouraged.
About the teachers…
Camp director Bill Evans has taught hundreds of students in his Bluegrass Jam Classes at the Freight from 2009 to 2019. His teaching is hands-on, fun and practical, giving you the skills to play with others confidently and quickly while having a blast doing it. He has authored four banjo instructional books, has produced nine instructional DVD projects and he also teaches the Beginning and Bluegrass Banjo online courses at Peghead Nation. A very well-known Freight performer, Bill has hosted the annual California Banjo Extravaganza at the Freight for the last eight years. In addition, he has performed on the Freight stage with David Bromberg, David Grisman, Peter Rowan, Jody Stecher, Laurie Lewis and Kathy Kallick, among many others. He has also taught ensemble classes at most every major bluegrass camp in the world, including the CBA Music Camp, the Walker Creek Music Camp, Sore Fingers Bluegrass week in England, Nimblefingers Bluegrass Camp in Canada, Camp Bluegrass in Texas and NashCamp Bluegrass Week in Tennessee. He also directs the New Mexico Banjo Camp in Kingston each April. You can learn more about Bill by visiting www.billevansbanjo.com. For more info about the class or to see if you're a good fit for this camp, feel free to email Bill directly at bill@billevansbanjo.com.
Since co-founding the internationally-acclaimed band, Good Ol' Persons, Kathy Kallick has won a Grammy and two IBMA Awards; had six title tracks and albums each spend a year in the top echelon of the national bluegrass charts; released 21 albums; appeared on three high-profile Rounder collections of bluegrass songs by women, as well as noteworthy compilations of songs about baseball, trains, spiritual matters, families, broken hearts, Christmas, and mothers; performed and recorded with the Frank Wakefield Band; received the support and friendship of Bill Monroe; toured throughout North America, Europe, and Japan; received a Lifetime Membership award from the California Bluegrass Association; and collaborated with the country's top acoustic musicians. Kathy is also an experienced teacher, offering instruction in singing, songwriting, guitar, and band coaching as part of many music camps including the California Bluegrass Association Music Camp, Rockygrass Academy, Augusta Heritage Center, Sore Fingers, Puget Sound Guitar Workshop, Nimblefingers, Bluegrass at the Beach, Walker Creek Music Camp, and the California Coast Music Camp. For more info, visit www.kathykallick.com
Jack Tuttle grew up in a musical family in rural Illinois and began playing guitar at age 5. When Jack was about 12 years old, he began playing bluegrass banjo and a little later took up mandolin and then fiddle. He began teaching full time at Gryphon Stringed Instruments in Palo Alto in 1979. Over the years, Jack has developed a complete and highly successful lesson program on banjo, mandolin, fiddle and guitar. He has taught thousands of students, many of whom have become top players in the Bay Area and beyond. Jack has been especially successful with children, some of whom have grown into major talents on the local and national scene (including his own children Molly and Sully). His current and past students heavily populate the jam scene in the South Bay and Peninsula. He is also the music editor of Fiddler Magazine and has written twelve instructional books.
Berkeley's Avram Siegel is one of the most popular and experienced bluegrass teachers in the San Francisco Bay Area. He has been teaching banjo, guitar, music theory and bluegrass band classes out of his home for the last two decades, often keeping a waiting list of those wishing to participate. In addition, Avram continues to teach his highly popular Bluegrass Vocal Harmony classes at the Freight. Over the years, he has played in a long list of notable California-based bands including the Kathy Kallick Band, True Blue, the Vern Williams Band and the Fog City Ramblers.
Dix Bruce is a Bay Area musician, writer, and teacher who has been active in all three pursuits since 1974. He plays several instruments most notably guitar and mandolin. He has authored over fifty music instruction books for Mel Bay Publications including The Parking Lot Picker's Songbook and has recorded several instructional videos for various publishers. Dix has taught at many of the best acoustic and bluegrass camps and workshops. He is known to be a supportive teacher who's main philosophy is to get players up and picking and having fun!
Brian Walker is the go-to sound technician for professional bluegrass bands when they perform at the Freight. Brian will be conducting a sound reinforcement session that will help students understand all aspects of working with a PA system in live performance, from microphone placement to EQ, mixing and monitor use for a band and much more. Brian will also be our sound technician for our Monday afternoon student concert.