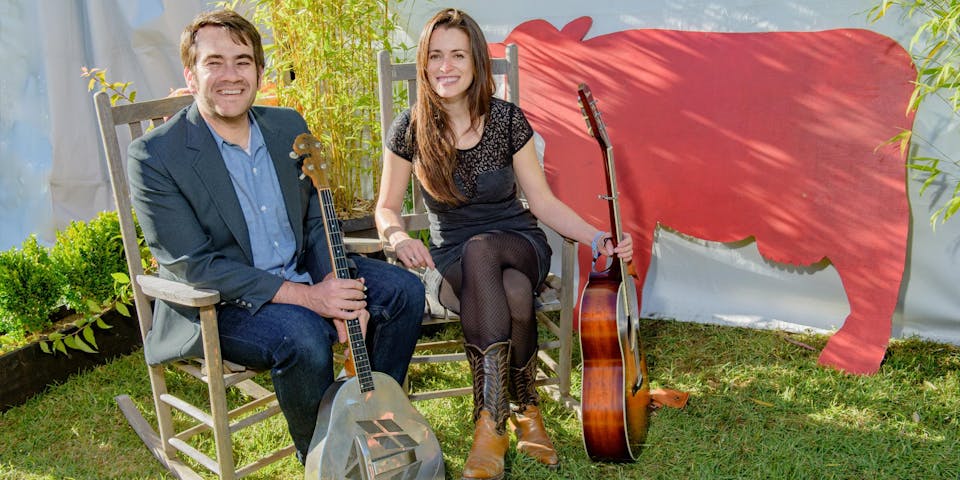 THIS SHOW HAS BEEN POSTPONED DUE TO ARTIST AVAILABILITY
Caitlin Canty with Noam Pikelny
Caitlin Canty and Noam Pikelny
THIS SHOW HAS BEEN POSTPONED DUE TO ARTIST AVAILABILITY. FROM CAITLIN CANTY:
I'm sorry to announce that we're having to to postpone my upcoming show at the Freight & Salvage on Fri, Mar 27, 2020. The good news is I'm 6 months pregnant. The bad news is I was just given doctor's orders to not fly from now til the end of my pregnancy, which makes it impossible for me to play these west coast shows. I hate to cancel any show, but I need to follow my doctor's orders. I will reschedule, but do not have a confirmed date to share yet. I am so sorry for the inconvenience this causes you, and I appreciate your understanding.
Caitlin Canty
"Gritty alt-folk" - NOISEY
"Caitlin Canty mixes a gritty side with aching ballads" - WORLD CAFE
Caitlin Canty is an American singer/songwriter whose music carves a line through folk, blues, and country ballads. Her voice was called "casually devastating" by the San Francisco Chronicle and NPR Music describes her songs as having a "haunting urgency."
Motel Bouquet, Canty's third record, features ten original songs that hold her darkly radiant voice firmly in the spotlight. Produced by GRAMMY-winning Noam Pikelny (Punch Brothers) and recorded live over three days in Nashville, the album boasts a band of some of finest musicians in roots music, including fiddler Stuart Duncan and vocalist Aoife O'Donovan. Rolling Stone hails Motel Bouquet as "dreamy and daring" with "poetic lyrics and haunting melodies."
Raised in small-town Vermont, the daughter of a school teacher and a house painter, Canty earned her degree in biology in the Berkshires and subsequently moved to New York City. She spent her days in the city working as an environmental sustainability consultant and her nights making music at Lower East Side music halls and bars. In 2009, she quit her job and set out to make music full time. In 2015, she packed up her house plants and her 1939 Recording King guitar and drove to Nashville, TN, which she now calls home.
Noam Pikelny
Noam Pikelny has emerged as the preeminent banjoist of his generation. He is a founding member of Punch Brothers, a 3-time Grammy Nominee and was awarded the first annual Steve Martin Prize for Excellence in Banjo and Bluegrass in 2010.
Universal Favorite is the fourth record Noam Pikelny has released under his own name, but it's truly his solo debut. His previous solo efforts—including 2014's landmark Noam Pikelny Plays Kenny Baker Plays Bill Monroe—were full-band affairs that revealed his abilities as a dynamic bandleader while reinforcing his reputation as an inventive accompanist. The new release features only the man himself, playing lovely originals and covers that showcase his unique approach to the instrument and compositional flair. He recorded them live in the studio without accompaniment, coaxing a wide array of sounds and colors out of his instruments, embracing the challenges and exploring the new possibilities of the solo setting. And, for the first time in his career, Pikelny even sings. It turns out he has a striking deadpan baritone that conveys humor and melancholy in equal measure.
This album, he says, "is the most personal statement I've put forward. The setting couldn't be more stark and I think it lays bare my musical core. Most importantly, it's an incredibly honest solo album, in that there are honestly no other people on this record other than me."
Youth/Student discount tickets are available by using the access code: STUDENT.