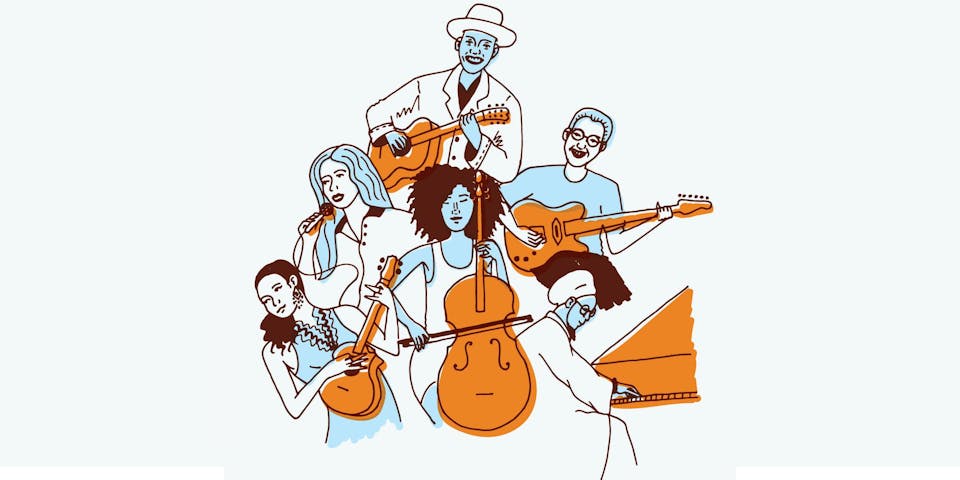 Celebrate The Freight
George Kahumoku, Jr., Lucy Kaplansky, Bill Frisell, Omar Sosa, Holly Near
$50.00 - $1000.00
Sales Ended
On Freight & Salvage
Don't miss this online celebration with an all-star line-up!
Don't miss this online celebration with an all-star line-up!
George Kahumoku, Jr, Lucy Kaplansky, Bill Frisell, Omar Sosa, Holly Near, Vienna Teng, Leyla McCalla, Hills to Hollers (Lauria Lewis, Vicki Randle, and Barbara Higbie), Taimane, Eric Bibb, Kiran Ahluwalia, Rez Abbasi, Trace Bundy, and more!
Donations will carry the Freight forward and support music education for Berkeley middle school youth – this September we're offering free after school programs…online!
Donors of $300 and above receive a special Freight & Salvage goodie bag, delivered to your home! Includes Bill Frisell DVD, Mavis Staples CD, and more!
Visit this page on Thursday, August 27th at 4:45pm for streaming links, so you'll be all set when the concert begins at 5:00pm.
Set up a watch party on Facebook:
To create a watch party from a Facebook video:
- From a video you're watching, click Share at the bottom.
- Click Start a Watch Party
- Once you're in the watch party you can add friends to watch with you.
While You're In Your Watch Party
Once your watch party starts, you can:
- Click Add Co-Host to add an additional host to your watch party.
- Click Invite in the bottom left to invite people to your watch party. Any people you invite will receive a notification that they've been invited to join your watch party. When someone joins, you'll see their profile picture in the bottom left of your screen.
- Click Write something... on the right to chat with others who are in the watch party with you. You can click to add emojis, GIFs, photos or videos to your comments.
- To end your watch party, click in the top right of the video, then click End Watch Party.
After Your Watch Party Ends
Once you finish your watch party, a recap will be saved on your timeline as a post, which will show all videos watched during the party along with any comments that were made.
The Freight & Salvage is pleased to partner with Together Pictures for the presentation of this online event.
"Together Pictures is proud to be a Local, Female & Black Owned Small Business. 25% of our stockholders are Latino."