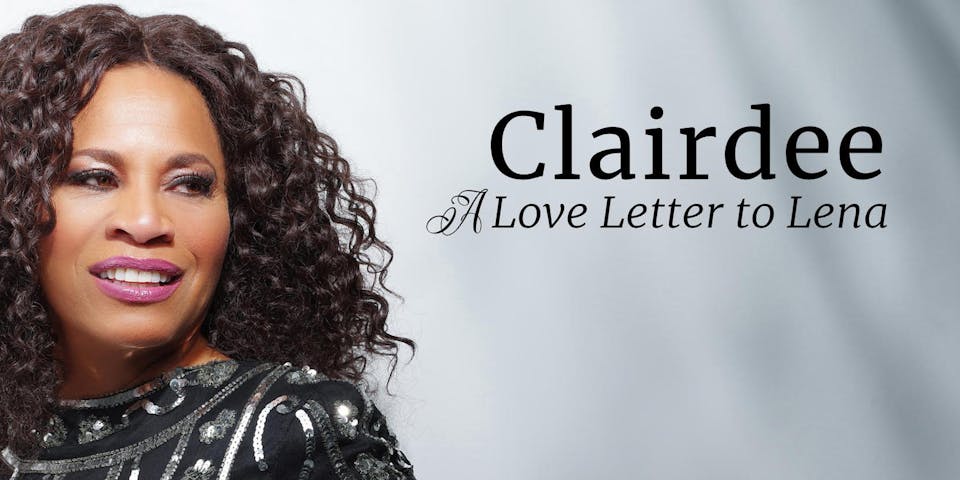 Clairdee "A Love Letter to Lena" Album Release
Clairdee "A Love Letter to Lena" Album Release
Created by vocalist, recording artist, and educator Clairdee, "A Love Letter to Lena" is a spirited and inspiring evening-length concert honoring the extraordinary life of African-American singer, actor, and activist Lena Horne. The concert and album of the same title integrate inventive new arrangements of songs by Billy Strayhorn and contemporary composers, with richly layered narrative from Horne's life.
Through Clairdee's distinctive vocal styling and compelling storytelling, the program examines Horne's pivotal role in changing attitudes about race and America's stereotypical view of African-Americans.
Clairdee, who has performed with a dazzling array of artists from Nancy Wilson to Sir Roland Hanna, will be joined on stage by her collaborators Jon Herbst (producer/arranger), Ken French (music director), her stellar band, Margo Hall (narrator), and six vocalists, including three members of the highly imaginative a cappella ensemble SoVoSo.
"In the tradition of all great vocalists, Clairdee infuses her own unique style while always remaining true to the song itself." — Nancy Wilson
"Clairdee is a multidimensional and versatile talent."— Hartford Courant
Personnel:
Clairdee, vocals
Jon Herbst, piano / keyboards
Ken French, music director, piano / keyboards
Ron Belcher, bass
Deszon Claiborne, drums
Dave Bell, guitar
Margo Hall, narrator
Members of SoVoSo: Ashling Cole, Bryan Dyer, Zoe Ellis
Special guests: L. Peter Callender, Tony Lindsay, Janice Maxie-Reid, Fred Ross