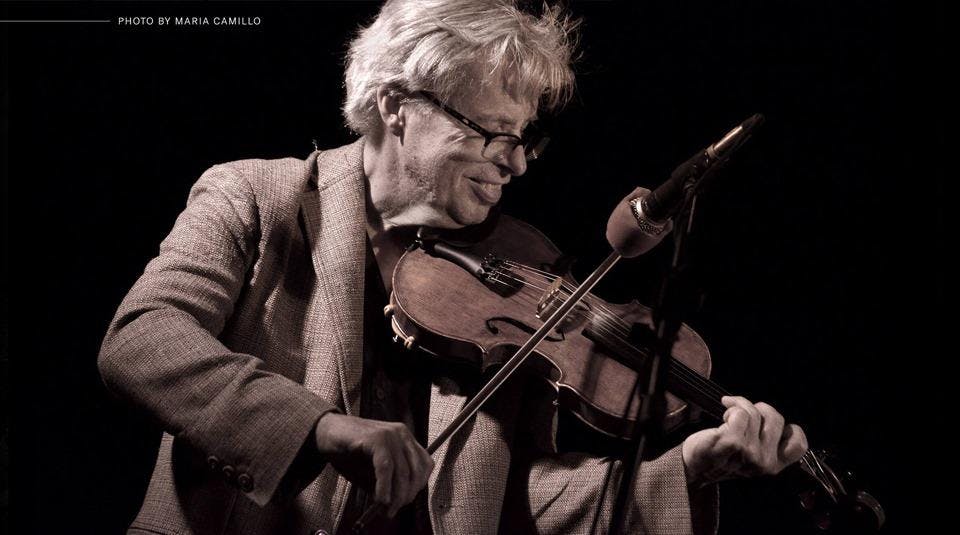 Darol Anger's Intergalactic Republic of Strings
DUE TO UNFORESEEN CIRCUMSTANCES, THIS SHOW HAS BEEN CANCELLED.
If legendary master fiddler/educator/producer/engineer/instigator Darol Anger is making any kind of statement in 2020, it's through his choice of band members. For this season he's pulled together a special edition of the Republic Of Strings that can be described as Meta-International; quite possibly Intergalactic. Virtuosic is too weak a word to describe this magical combination of stylists, composers, generations, and the explosive interplay that this group wields. All of the players, from different parts of this world, share an association with the Boston and New York Acoustic Music community, and have variously played together in other combinations, in other universes. The InterGalactic Republic Of Strings builds on its powerful and beloved legacy and upholds the power of music to take people on a rocket ride through space, time, and soul.
LENA JONSSON, Violin lenajonsson.com/
Renowned for her work in the Swedish new folk scene, multiple award-winning fiddler Lena Jonsson has spent over 15 years performing in the US, UK, Europe, Australia and Asia. Her deep knowledge of traditional Swedish folk music combined with innovative artistic and pop charisma has made her one of the most exciting artists and in-demand musical collaborators in the international folk scene.
EMY PHELPS, Vocals, guitar
Vocalist/Songwriter and guitarist Emy Phelps is a polestar and inspiration for all women and many men who put a career on hold to raise a family and are now back in the game. Her extraordinary voice, crafty guitar playing, and angelic presence have charmed audiences all over the world, from Spain and Ireland to Australia, Canada and her native Pacific Northwest. After 3 well-received recording projects with Darol Anger, 2020 will mark an important year for Emy as she settles again in the West and her music becomes more well-known.
MÀIRI CHAIMBEUL, Celtic Harp mairichaimbeul.com/
Called "One of the most talented and versatile celtic harpists ever," Màiri Chaimbeul is a Boston-based harp player and composer from the Isle of Skye in Scotland. Described by Folk Radio UK as "astonishing", she is known for her versatile sound, which combines deep roots in Gaelic tradition with a distinctive improvising voice and intense technical command. Màiri was twice-nominated for the BBC Radio 2 Young Folk Award, finalist in the BBC Young Traditional & Jazz Musicians of the Year and twice participated in Savannah Music Festival's prestigious Acoustic Music Seminar. She is a graduate of the Berklee College of Music, where she attended with full-scholarship, and was awarded the prestigious American Roots Award.
ETHAN SETIAWAN, Mandolins ethansetiawan.com
Ethan Setiawan is a Hoosier mandolinist with Indonesian family roots who's won Winfield's National Mandolin and the RockyGrass Mandolin Championships. He freelances all over the US and UK with musicians including Darol Anger and Tony Trischka. In 2015, he attended the Acoustic Music Seminar at the Savannah Music Festival, where he worked with Mike Marshall, Julian Lage, Casey Driessen, and Bryan Sutton. he has guested on A Prairie Home Companion. He moved to Boston in 2015 to attend Berklee College of Music on a full ride scholarship. He's been a catalyst for several projects in the Boston area and elsewhere, including the Mudskippers, a progressive string band, Corner House, which draws from Scottish, Appalachian string band, and bluegrass styles, and the Harmolodic String Band, which plays the music of Ornette Coleman on bluegrass instruments.
AIDAN O'DONNELL, Bass
Scottish virtuoso bassist Aidan O'Donnell hails from Glasgow, but calls Brooklyn home. He's one of the most technically adept and versatile musicians in the world, and plays regularly with a wide array of musicians whose names you know.