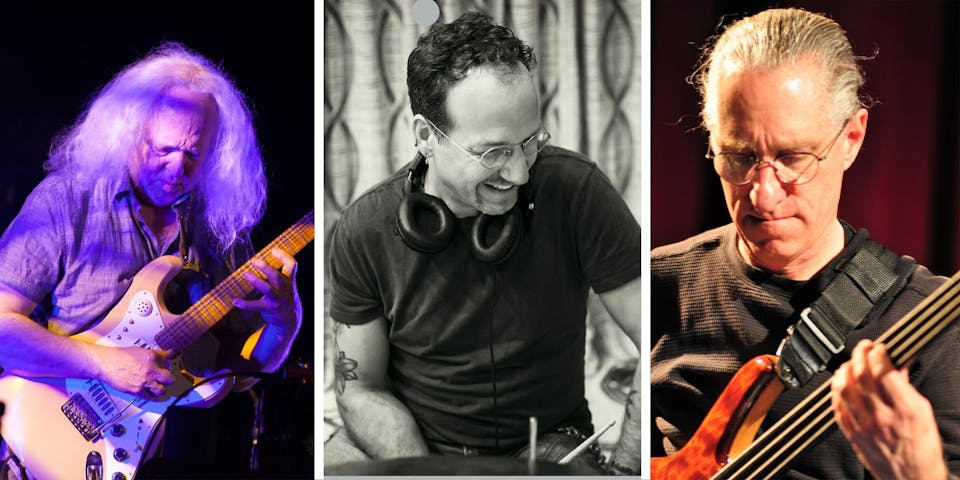 in: Trees Move Air - a night of improvised music
David Torn, Scott Amendola, and Michael Manring
David Torn, Scott Amendola, and Michael Manring in: Trees Move Air - a night of improvised music
David Torn, Scott Amendola, and Michael Manring in: Trees Move Air - a night of improvised music
David Torn (also, aka "splattercell") is a composer, texturalist, guitarist, producer & whatnot of actual international stature, renowned for his unique musical voice which seems to span & un-define a range of idioms and styles.
His characterful & compositionally textural work has had material impact & influence on both film scoring — through his own scores, in addition to his creative contributions to scores by Carter Burwell, Ryuichi Sakamoto, Cliff Martinez, Howard Shore, Mark Isham, and others — and, generally, upon contemporary electric, electro-acoustic & electronic music.
In addition to the medium of film scoring, David's creative contributions have graced & assisted the works of other musical artists-of-note as diverse as David Bowie, k.d. lang, Tim Berne, John Legend, Madonna, Tori Amos, Bill Bruford, Tony Levin, Mick Karn, David Sylvian, Chocolate Genius, Michael Shrieve, Steve Roach, Patrick O'Hearn, Matt Chamberlain, Meshell Ndegeocello and Don Cherry.
Scott Amendola
"If Scott Amendola didn't exist, the San Francisco music scene would have to invent him." Derk Richardson, San Francisco Bay Guardian
For Scott Amendola, the drum kit isn't so much an instrument as a musical portal. An ambitious composer, savvy bandleader, electronics explorer, first-call accompanist, and capaciously creative foil for some of the world's most inventive musicians, Amendola applies his rhythmic virtuosity to a vast array of settings. His closest musical associates include guitarists, Nels Cline, Jeff Parker, Charlie Hunter, Hammond B-3 organist Wil Blades, violinists Regina Carter and Jenny Scheinman, clarinetist Ben Goldberg, players who have each forged a singular path within and beyond the realm of jazz. Over a career spanning more than three decades, Amendola has forged deep ties across the country, and throughout the world.
Michael Manring
Hailed by many as the world's leading solo bassist, Michael Manring has been pushing back the boundaries of what's possible on the bass guitar for over three decades. While his technical skill and innovations always make an impression, it is his ability to communicate on a profound emotional level that most touches listeners. As editor Tom Darter wrote in Keyboard magazine after seeing one of Michael's solo concerts, "Forget his astounding technique and musicality; forget his absolute command of his instruments; forget how seamlessly the musical ideas and the performance of them were wedded together...The enlightenment came most from feeling (seeing, hearing) the joy Michael felt to be playing...his brand of transcendental chops and musical understanding...was all in the service of the final outcome, the joy of making music."