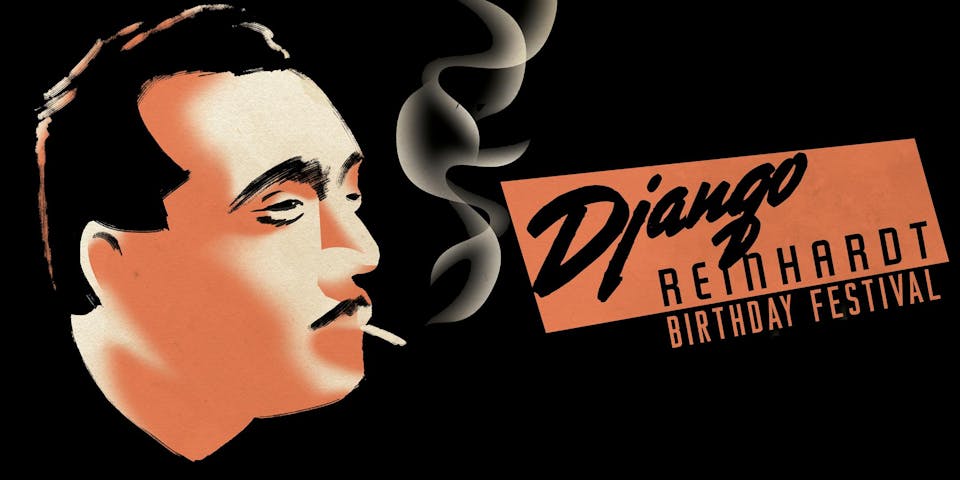 SINGLE TICKETS SOLD OUT! - 3-DAY PASSES STILL AVAILABLE
Django Reinhardt Birthday Festival - Friday
Biréli Lagrène Trio, Christine Tassan et les Imposteures, Hot Club of San Francisco Reunion
$41.00 - $49.00
Sales Ended
Django Reinhardt Birthday Festival (1/24/20) at Freight & Salvage in Berkeley, CA
We are SOLD OUT of advance, single day tickets for this show (Friday 1/24 performance). We still have a few 3-Day Passes available for sale. There will be standing-room-only tickets available the night of the concert at the door after 8pm, once the music has started.
All tickets are subject to an additional $4 per ticket facility fee.
Join The Freight to celebrate the life and music of Django Reinhardt with three days of shows and workshops. Festival Artistic Director Paul Mehling and The Freight's program director Peter Williams have assembled an all-star, international lineup of musicians. See the full schedule here.
Biréli Lagrène Trio
Music has always been the language of guitarist Biréli Lagrène. Following in the footsteps of legendary gypsy jazz guitarist Django Reinhardt, Lagrène hails from Alsace, France and plays with incredible precision, strength and virtuosity – he is considered to be one of the world's premiere practitioners of gypsy jazz.
Lagrène's acclaimed Gypsy Jazz Project ensemble features a trio format with saxophonist Frank Wolf and double bass player William Brunard.
Christine Tassan et Les Imposteures
With a decade and a half of bringing their special blend of Gypsy Swing and revisited cover songs to audiences, Christine Tassan et les Imposteures have made a name for themselves on the music scene. The latest show of these four exquisitely talented female musicians brings together some of the best works by Django Reinhardt, Félix Leclerc and American swing composers. With a singular mix of virtuosity, daring and humour, the four-woman string band draws inspiration from one artist's poetry and the other's swing to weave a rich new musical universe, an ode to freedom and creativity.
Hot Club of San Francisco Reunion
The Hot Club of San Francisco has been bringing Jazz Manouche (or gypsy jazz) to audiences around the world for 30 years. Hitting all of the great venues: Festival de Django Reinhardt at Samois sur Seine, Monterey Jazz Festival, Wolf Trap Theater, etc.and creating 15 wildly popular recordings. Personnel changes through the years have yielded some great combinations of synergistic magic - including the current lineup on Saturday. Reaching back to the early days in the last century, we're recreating the cast from one of our best-selling CDs "Swing This" featuring founding member Steven Strauss on string bass, the lovely vocals and swinging guitar of Sylvia Herold, founding member Julian Smedley on violin, bassist from the first 2 recordings Evan Dain, and the elegant violin of Jeremy Cohen. There will be some surprise guests too. For our faithful fans who have followed us fearlessly through the years Friday's reunion will be a fantastic show.