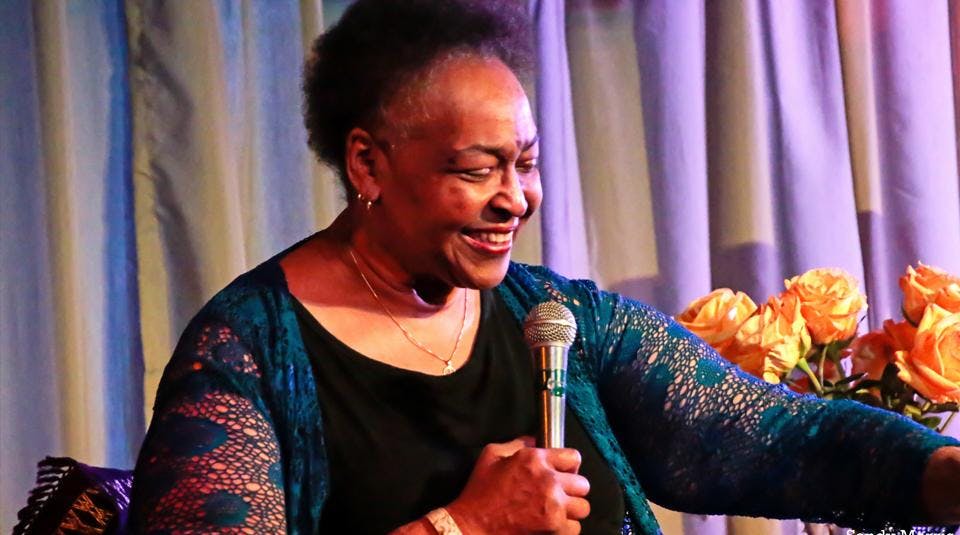 Cupping the Flame of Women's Culture: Montclair Women's Cultural Arts Club Closing 1996-2015
Linda Tillery, Holly Near, Mary Watkins, Barbara Higbie, The Washington Sisters
$10.00 - $20.00
Sales Ended
Film and Performances of the Closing Day of Montclair Women's Cultural Arts Club is happening at Freight & Salvage in Berkeley, CA.
The Montclair Women's Cultural Arts Club operated in Oakland for 20 years. The Club produced Monthly Concerts of Women's Music, presenting artists from across the U.S., Australia and Europe. There were monthly Brunches, Teas, Game Nights, Book Groups, Open Mic Nights, Dance Classes, Speakers and Holiday Parties open to all Bay Area Women. The Closing of the Montclair Club in 2015 was celebrated by a concert of nine well-loved performers. The Closing Day was memorialized in a video that will be shown at the Freight & Salvage on November 23, 2019 at 2pm, accompanied by an Opening live performance with Linda Tillery, Melanie DeMore, Alix Dobkin, Terry Garthwaite, Barbara Higbie, Holly Near, Tammi Brown and Sandra & Sharon Washington. The DVD will be sold at the concert; all proceeds will go to the Linda Tillery Health Fund.
All tickets are subject to an additional $4 per ticket facility fee.
Linda Tillery
Linda Tillery's career began in 1967 as lead singer of the Berkeley based, psychedelic soul band, Loading Zone. Since those early days she has collaborated as vocalist and percussionist on more than eighty recordings with the likes of Santana, Huey Lewis and the News, The Whispers, Taj Mahal, Kenny and Pete and Sheila Escovedo. She was both artist and producer at Olivia Records, was a founding member of Bobby McFerrin's Voicestra, and founded Linda Tillery and the Cultural Heritage Choir. Linda's journey is a true representation of the Bay Area music scene – through psychedelic 60's soul, groundbreaking 70's activism, 80's R&B glitz, numerous cross cultural collaborations and since 1990, her exploration into the roots of the African American music experience. Now, in 2018, she is at the height of her musical powers, continuing her adventures in sound, and exploring what it means to be a local legend.
Holly Near
Holly Near brings to the stage a unique combination of highly trained vocal power, delightful humor and poetic reflection. For over 40 years, Holly has fused cabaret, folk and spoken word in to a sound track for progressive thinking. Her powerful voice has creatively articulated the complexities of social change activism since the early seventies. With critical thinking as a major element in her songwriting, she has been a unifying force connecting the issues that so challenge the lives of activists, educators and community. Holly says, "Now that Pete Seeger, Odetta, Mary Travers, Maya Angelou, Ruby Dee and so many other elders have left us, artists of my generation are no longer elders in training. We are the elders."
Mary Watkins
Mary Watkins is a pianist, composer, arranger, recording artist and record producer. Much of her music reflects a love for many styles whether jazz, gospel, country, rock, clasical, new age or pop. Besides being a songwriter is she is an eclectic composer and a recipient of several grants from foundations such as Meet The Composer, National Endowment for the Arts, Gerbodi Foundation, Zellerbach Family Fund and Calfornia Council for the Arts.
She has composed music for chamber and fulll symphony orchestra, opera, jazz ensemble, dance, theater, and film.
Barbara Higbie
Berkeley's Barbara Higbie is a master of piano and violin who combines technical brilliance with the pure joy of playing. Her unique compositions weave together elements of jazz, folk, and classical with the music of Ghana and Brazil. Oh, and she also sings like a dream. She has been nominated for a Grammy award, won Bammy awards, performed on more than 65 albums, including one with Santana, one with Linda Tillery and Laurie Lewis, and three with Montreux, the band she co-founded with Darol Anger. Her latest album, Scenes From Life, is an all-instrumental collection featuring 13 new originals, that Singout! calls "highly recommended" and critic Andrew Gilbert describes as "gorgeously cinematic." In the words of the Los Angeles Times, Barbara is a "jolt of bright sunlight" – and everyone in the audience feels her warmth.
Terry Garthwaite
Terry Garthwaite is an internationally known singer, songwriter, composer, producer, and teacher. Her recording career dates back to the late 1960s when she and Toni Brown formed the rock group Joy of Cooking. She recorded several albums with the band, and then a dozen others by herself or in collaboration with other jazz and blues musicians. In performance she has shared the stage with such artists as BB King, Janis Joplin, Bonnie Raitt, The Band, Allen Ginsberg, Santana, Rosalie Sorrels and writer Bobbie Hawkins at venues that include Carnegie Hall, the Joseph Papp Theater, the Hollywood Bowl. Terry has also produced recordings by other artists including Jasmine, Rosalie Sorrels, Rhiannon, Nicholas, Glover & Wray, Hunter Davis, Robin Flower, and Ferron, whose Garthwaite-produced Shadows on a Dime was awarded four stars by Rolling Stone. This is Terry's second Glass Half Full performance.
Melanie DeMore
Melanie DeMore : Vocal Activist - is one of the most outstanding vocal artists of today helping to preserve the African American Folk Tradition through song and Gullah stick pounding. She was the subject of a documentary called 'Stick and Pound which showcases this tradition.She has a career spanning 30 years dedicated to teaching, lecturing, mentoring, conducting, directing and inspiring children and adults about the power of song as social and political change. Melanie is a sought after presenter, conductor and soloist at national and international choral and music festivals, including Festival 500 in NewFoundland, Canada and Chorus America.
She is sought after as a song/ prayer facilitator, creating spontaneous choirs for The Trinity Institute, The Haas Institute for a Fair and Inclusive Society and the Powell Foundation as well as many varied spiritual and faith based organizations.She is adjunct faculty at the California Institute for Integral Studies, Master teaching artist for CalPerformances at UC Berkeley, a featured presenter for SpeakOut! the Institute for Social and Cultural Change and the Artistic Conductor of The Oakland Children's Community Choir with Living Jazz.
She was a founding member of the Grammy nominated, Linda Tillery and the Cultural Heritage Choir and has had the pleasure of sharing the stage with such varied artists as Odetta, Richey Havens, Pete Seeger, the Trinity Choir, MUSE Cincinatti Women's Chorus and many others.
Melanie DeMore is a singer/songwriter, composer ,conductor and vocal activist, who believes in the power of voices raised together.
She says: 'A song can hold you up when there seems to be no ground beneath you".