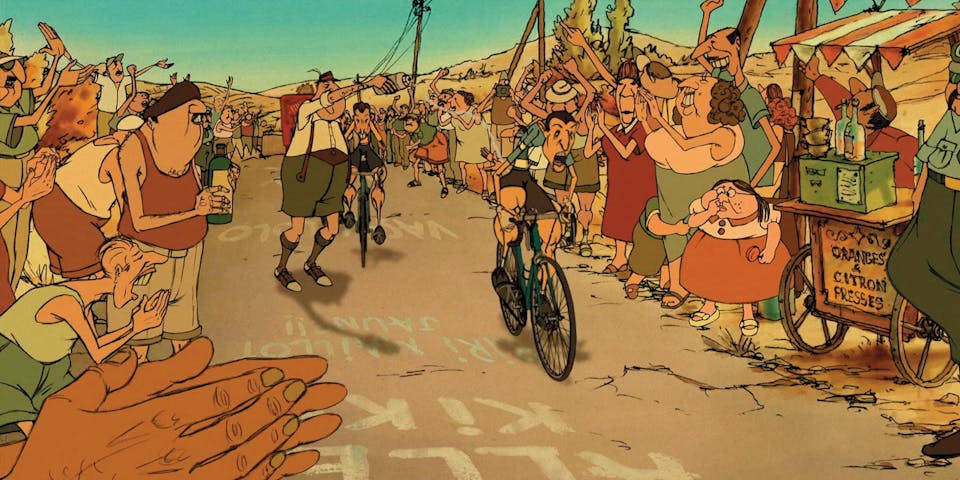 Films at The Freight: The Triplets of Belleville
The Triplets of Belleville
The Triplets of Belleville is a 2003 animated comedy film written and directed by Sylvain Chomet. It was released as Belleville Rendez-vous in the United Kingdom. The film is Chomet's first feature film and was an international co-production among companies in France, the United Kingdom, Belgium, and Canada.
The film features the voices of Michèle Caucheteux, Jean-Claude Donda, Michel Robin, and Monica Viegas. There is little dialogue; much of the narrative is conveyed through song and pantomime.
It tells the story of Madame Souza, an elderly woman who goes on a quest to rescue her grandson Champion, a Tour de France cyclist, who has been kidnapped by the French mafia for gambling purposes and taken to the city of Belleville. She is accompanied by Champion's loyal but obese hound, Bruno, and joined by the Triplets of Belleville, music hall singers from the 1930s, whom she meets in the city.
The film was highly praised by audiences and critics for its unique style of animation. The film was nominated for two Academy Awards—Best Animated Feature and Best Original Song for "Belleville Rendez-vous". It was also screened out of competition at the 2003 Cannes Film Festival.
Runtime: 80 min
Films at The Freight
With special thanks to the Friends of the Freight, come celebrate a new screen and projector while enjoying our superb sound system composed of speakers and amplifiers exclusively designed and installed by Meyer Sound Labs of Berkeley with the Films at The Freight!
A great way to enjoy music, film and community in the Littlefield Listening Room, come experience some of the most beloved films on music. Carefully curated by The Freight's program director, Peter Williams.