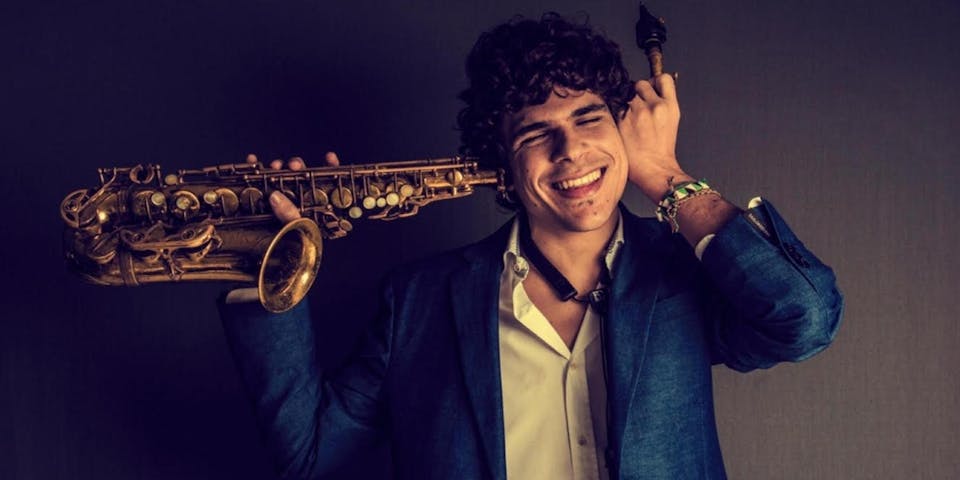 Bay Area Flamenco Presents
Flamenco at The Freight
Antonio Lizana, Direct from Spain
$35.00 - $125.00
On BAY AREA FLAMENCO
A series in support of the 15th Anniversary of the Bay Area Flamenco Festival
Flamenco, Jazz and Beyond
ANTONIO LIZANA Bridging the worlds of flamenco and jazz with his original music, it's difficult to distinguish between the sax player who sings flamenco and the flamenco singer who plays the saxophone. Like flamenco legend Camaron de la Isla -a major influence for Lizana-, he was born and bred in the San Fernando neighborhood of Cadiz, Spain. Lizana has a degree in jazz studies from the Centro Superior de Música del País Vasco and has collaborated with many greats, including Chano Domínguez, Jorge Pardo, Chambao. Among his many credits is a guest appearance on Arturo O'Farrill's Afro Latin Jazz Orchestra project "The Offense of the Drum", which won a Grammy for Best Instrumental Latin Jazz Album. He composes and arranges all of his music and also writes his own lyrics. He has created quite a buzz recently inside and outside of Spain, releasing three albums in the last 5 years, the last two --"Oriente" and "Quimeras del Mar"-- with Sony Music.
"People say I play flamenco jazz and, although I'm ok with that, I don't really see it that way because I like a lot of other musical forms as well and that is reflected in my songs," points out Lizana. "I would really prefer my music be seen as something unique that can't be categorized," he concludes.
VIP ticket-holders are invited to join Antonio & his group in an exclusive meet & greet before the concert.
Antonio Lizana, Voice and Saxophone
Shayan Fathi, Drums
David Sancho, Piano
Jesús Caparrós, Bass
Mawi de Cádiz, Dance
Founded in 2005, Bay Area Flamenco produces numerous events, film screenings, lecture/demos, workshops and master classes throughout the year, including the annual Bay Area Flamenco Festival/Festival Flamenco Gitano, now in its 15th year. The BAY AREA FLAMENCO FESTIVAL has grown into a popular and vital annual Bay Area cultural event. Celebrating Spanish Gypsy music and dance as a living culture and a legacy of world stature, the Festival has presented some of the most important figures in the history of flamenco such as Manuel Agujetas, Farruquito, Manuela Carrasco, Angelita Vargas as well as prodigies from today's generation of artists.
"The San Francisco Bay Area has become a major U.S. conduit for Spain's greatest flamenco artists. Over the past decade no one has done more to build bridges between Andalusia and the Bay Area than Nina Menendez and the organization she founded and directs: Bay Area Flamenco." (KQED, The California Report)
Serving as a bridge between our local community and the flamenco community in Spain, we foster cultural exchange opportunities that allow our community of outstanding local flamenco artists and the region's large number of student and apprentice flamenco practitioners to interact in meaningful ways with master artists and tradition-bearers from Spain's flamenco communities, creating a context for sharing cultural traditions and experiencing flamenco in a genuinely interactive and spontaneous environment.
Artistic Director Nina Menéndez's unique curatorial vision distinguishes the work of BAF and its particular focus on grassroots flamenco from the Gitano communities of Spain. Our programming aims to increase awareness of the culture, traditions and history of the Gypsy/Romani people of Spain, and to illustrate the way music and dance traditions are key to cultural resistance, serving as a vessel for the transmission of cultural identity and oral history across the generations.
"These artists are bringing the Gitano essence of flamenco into the 21st century," explains Festival director Nina Menéndez. "They have an ease for improvisation that comes from living the art as a part of everyday life. No choreography is required, only an intimate connection among the dancers and musicians who interact freely on the basis of a shared legacy and an insatiable hunger to find the spark of 'duende' that transforms the mundane into the sublime."