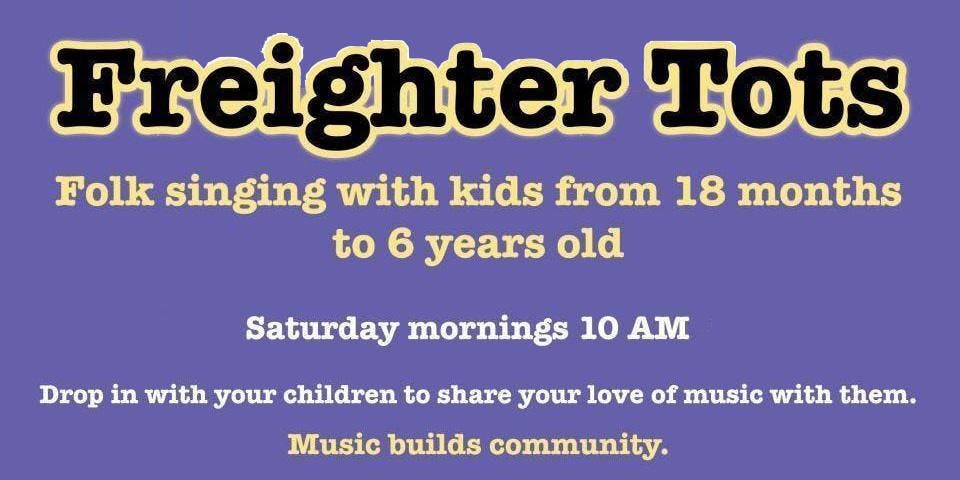 ONLINE! Come Sing Along Every Saturday morning at 10am
Freighter Tots
Freighter Tots ONLINE w/Clyde Leland
To join the Zoom session on Saturdays, sign up on the grampasings.com homepage with your email and the link will be sent to you. Or you can just click on "Sing Along From Home" on the website home page.
Freighter Tots: Folk singing with kids ages 18 months to 6 years
FREE! Online via Zoom - Every Saturday at 10AM
In this song circle, we'll sing, dance to, and act out folk songs about things kids care about: things like animals, nature, vehicles, their bodies, family, friends and being silly. Little children can start to understand tempo and rhythm using toy instruments; parents and other caretakers can learn songs to sing and games to play with their children. Make music part of their lives! Music builds community.
Clyde Leland
Clyde Leland (Grampa Clyde) started singing songs with kids about 40 years ago when his own children were in pre-school. In 2015, while singing with his granddaughter's class, he realized that singing with kids is more fun than teaching law students. So he left his job teaching Legal Ethics in law school to give more time to Sing Along with Grampa Clyde. In addition to practicing and teaching law and working as a legal affairs journalist, he has been a summer-camp song leader and a singer-songwriter performing throughout the Bay Area. A native San Franciscan, he lives in Berkeley.