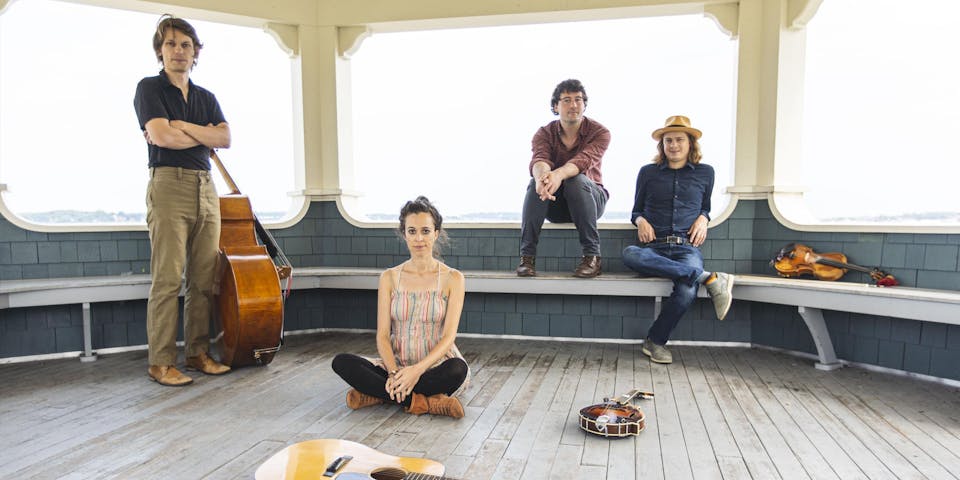 Hawktail at Freight & Salvage in Berkeley, CA
All tickets are subject to an additional $4 per ticket facility fee.
Hawktail
Hawktail is the instrumental acoustic quartet of fiddler Brittany Haas, bassist Paul Kowert, guitarist Jordan Tice, and mandolinist Dominick Leslie. Though at first glance it looks like an acoustic superpicker side-project, their all-original music is cohesive and unique, distinguishing them as an ensemble with a sound built from the ground up. Flush with orchestral sweeps and sparse vigils, with strains of the American South and the North Atlantic, this cosmopolitan sound is not what you'd expect from a string band.
The release of Hawktail's new record Formations comes just over a year after their debut, Unless. Unlike the arduous 3-plus year process of writing and recording Unless, Formations came about quickly -- written in 2 months and recorded in 4 days at Southern Ground Studios in Nashville. "We had studio dates to record a quick EP of covers, arrangements we'd been playing live," explains Kowert, "but we had these strong starts that felt so good that we were like 'let's finish THESE instead.'" Adds Haas, "we found a new joy in creating, tapping into the experience we gained from writing and recording Unless."
This new energy is largely due to Leslie's presence from the inception of Formations. Says Leslie, "our first album had more or less been written by the time I joined the band, so it was more about finding a complementary part. On Formations I was there for the writing, which resulted in the mandolin having a fundamental role in the music." Tice adds, "it's gotten easier to make music since we became a quartet; now we're able to be more spontaneous." Kowert elaborates, "having the strong rhythmic component of the mandolin gave agency to our new ideas, and the extra voice greatly increased musical staging possibilities. We're able to embrace things like bluegrass rhythm and twin fiddle, and also to build some pieces around a more complex rhythm, now an equal ingredient in the compositions."