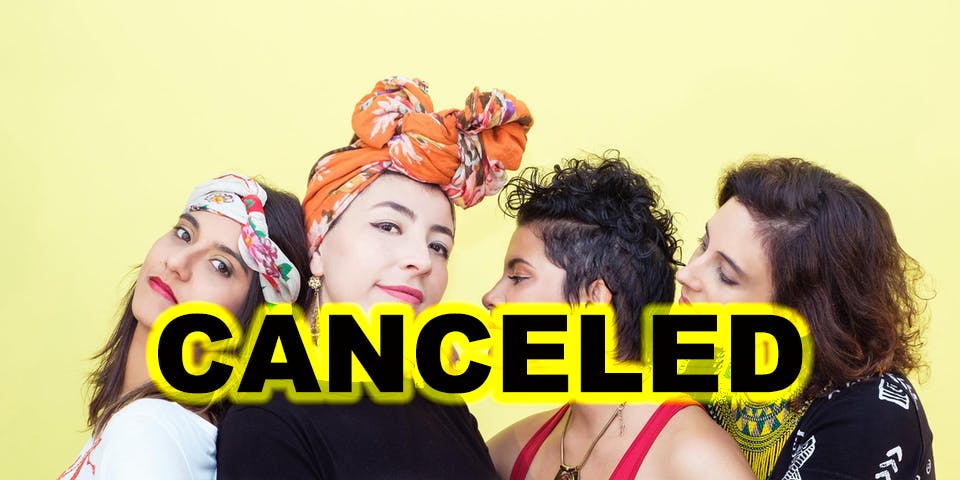 LADAMA - DANCE FLOOR OPEN!
THIS SHOW HAS BEEN CANCELED
LADAMA is a group of four women, virtuosic musicians, and educators -- Lara Klaus, Daniela Serna, Mafer Bandola and Sara Lucas—each from a different country and culture of the Americas, who are sisters in song, rhythm and spirit. Harnessing music from their respective countries of origin --Brazil, Colombia, Venezuela and the United States, the group utilizes traditional and non-traditional instruments from across the Americas, but with a modern twist, to produce Latin Alternative music.
LADAMA's debut, self-titled album, released in the Fall of 2017, could not be more timely; nowadays both Latin America and the United States, in fact the world, are deeply in need of projects that transcend boundaries and defy norms. This is precisely what their debut album, crafted carefully on a journey through Brazil, Colombia, Venezuela and New York, represents. LADAMA's new self-titled album transcends space, time and borders. Hatched across continents and language by the members of the group themselves, it delivers a fresh take on a myriad of traditional, Pan-American rhythms all coming together seamlessly into LADAMA's unique blend of enthralling sounds.
Youth/Student discount tickets are available by using the access code: STUDENT.