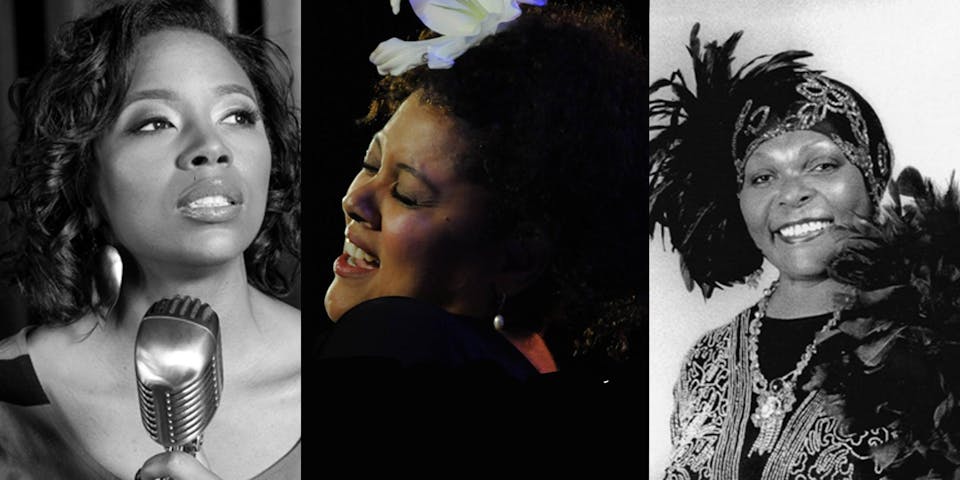 Ladies Sing The Blues
Kim Nalley, Denise Perrier, Tiffany Austin, Tammy Hall
$13.00 - $26.00
Sales Ended
Ladies Sing the Blues: Kim Nalley, Denise Perrier, & Tiffany Austin with Tammy Hall
Ladies Sing the Blues
Ladies sing the Blues is an exploration of the women who made up the essence of the blues: Bessie Smith, Dinah Washington, Billie Holiday, Nina Simone, Aretha Franklin, the nameless souls from the Middle Passage, the whoops and hollers of the pregnant women birthing in the fields, to Denise Perrier, Kim Nalley and Tiffany Austin, three ladies from three different generations who have made a substantial contribution to the legacy of jazz-blues. Perrier on stage with her show Bessie, Dinah And Me, Austin's album unbroken with Cyrus Chestnut, Kim Nalley with her album Blues People and Phd candidacy work in African American cultural history at UC Berkeley.
As Professor Waldo Martin wrote, Amiri Baraka meant the blues were a fully realized culture, or way of life that encompasses the totality of African americans historical and day to day experiences of struggle and endurance and "making a way where there is no way." Expect an evening of folk, rag, the sacred and the profane, the cool cosmopolitan of jazz-blues and the gut bucket of the down home blues and always LOVE. Come be apart of the call and response of this very special concert.
Kim Nalley
"GOD, CAN THIS WOMAN SING! It's as if a vocalist from the great post-war blues and jazz combos had been transported to the end of the century." Blues Access Magazine
"Nalley is the best singer, any style, I have heard in years. Phil Elwood- San Francisco Examiner
Kim Nalley exudes the aura of a diva from a by-gone era. Vocally, she has pipes to burn packing a 3 1/2 octave range that can go from operatic to gritty blues on a dime, projection that can whisper a ballad yet is capable of filling a room with no microphone, and the ability to scat blistering solos without ever losing the crowd's interest or the intense swing. She has been compared to all the greats, but in the end, it's Kim Nalley and no one else - an unforced instrument with clarity and jazzy musicality, effortlessly delivered, and a sense of humor to boot.
Denise Perrier
Denise Perrier has built an international reputation performing in festivals, concert halls, jazz clubs, etc. Born in Louisiana and raised in the San Francisco Bay Area she grew up among many of the greats of the jazz world. In her early twenties, Louis Armstrong heard her singing at the Fairmont Hotel and hired her for his Las Vegas review.
Tiffany Austin
"I always come back to soul. We must live with soulful connection to ourselves and our history." - Tiffany Austin
Widely hailed as one of the best jazz debut albums of 2015, Tiffany Austin's self-released Nothing But Soul made quite a splash, including sterling reviews in Downbeat and on NPR's "Fresh Air." Her eagerly awaited follow-up, Unbroken, confirms the Bay Area vocalist's status as one of jazz's elite singers and a formidable songwriter as well.
Rather than separating African-American music into kindred tributaries, Austin plunges into the whole river of sound that's sustained black life in America since before the nation's founding. In many ways, she's contesting what vocalist Gregory Porter has called "musical genocide" with a soul-steeped affirmation that embraces blues and swing, spirituals and R&B, bebop, post-bop, and her own Louisiana Creole heritage.
Tammy Hall
"A musician who has much to offer in the way of originality, fine technique and a rich, emotional quality that is evident on everything she does. Her playing is warm and persuasive and a listener's delight." - Marian McPartland, Piano Jazz
A frequent and favorite player here at the Freight, Tammy Hall has with worked award-winning cabaret singer and actress, Connie Champagne, the Supreme Mary Wilson, chanteuse and actress Debbie De Coudreaux, The Montclair Women's Big Band, Houston Person, the late David 'Fathead Newman', jazz violinists Regina Carter, Jeremy Cohen, Mads Tolling, orchestra leader and bassist Marcus Shelby, guitarist Terrence Brewer, vocalists Kim Nalley, Denise Perrier, Pamela Rose, Linda Tillery and the Cultural Heritage Choir, Holly Near, Lynne Asher, Melba Moore, Miki Howard, Rhonda Benin, Darlene Love, Lady Mem'fis, Veronica Klaus, Diane Witherspoon, Queen Esther Marrow, Ernestine Anderson, Derek Lassiter, Frankye Kelley, Nicolas Bearde, Kenny Washington, Lisa Ferraro Erika Luckett, Karen Drucker and the late Etta Jones. She has traveled and performed extensively in Japan, Europe and Mexico, including a 30-city tour with Queen Esther Marrow and the Harlem Gospel Singers throughout Germany, Switzerland and Austria. Other venues and festivals of note include Kennedy Center (Mary Lou Williams Jazz Festival), Lincoln Center and Carnegie Hall, Sala Filharmonica (Trento, ITALY), Herbst Theatre, Monterey Jazz Festival, San Jose Jazz Festival, SFJazz Center, Yoshi's Oakland and San Francisco and Kuumbwa Jazz in Santa Cruz, CA.