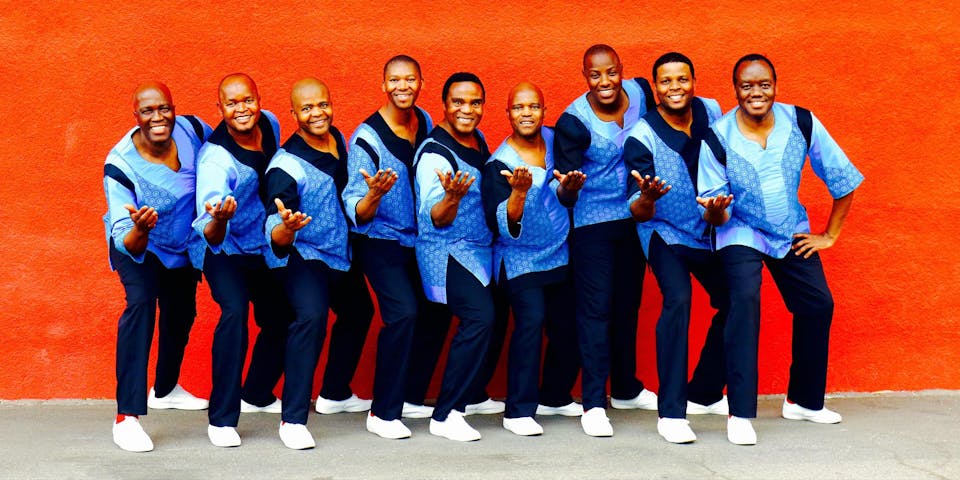 renowned South African a cappella singing group
Ladysmith Black Mambazo (2/6/21)
Ladysmith Black Mambazo at Freight & Salvage
NOTE: This show was rescheduled from Friday, August 7, 2020.
Ladysmith Black Mambazo return to the Freight with new album, Songs From Lindiwe, a collection of original songs written by group leaders, Thulani, Sibongiseni and Thamsanqa Shabalala, for the group's recent theatrical show Lindiwe, performed in Chicago, Illinois.
Lindiwe was produced by Chicago's Steppenwolf Theater (founded by John Malkovich and Gary Sinise) and performed November, 2019 through early January, 2020.
Songs From Lindiwe is not a cast album, but Ladysmith Black Mambazo's studio recording of the songs performed in the show.
"Joyful spirit and hushed, penetrating harmonies" (Chicago Sun Times)
"Warms your soul in the most satisfying of ways" (New City Stage)
"The music is glorious" (Chicago Reader)
"The melodies are so lilting & so joyful they about took my breath away" (Chicago Daily Herald)
South Africa's Ladysmith Black Mambazo was founded in the early 1960s by Joseph Shabalala, then a teenage farmer living on the lands just outside the small town of Ladysmith. Shabalala used his hometown's name to honor his family's history and also added to his group's name the word 'black' in reference to the black oxen, the strongest of all farm animals. 'Mambazo' is the Zulu word for chopping axe, a symbol of the group's vocal ability to clear the path to success. The group sings from a traditional music called isicathamiya (is-cot-a-ME-Ya), which developed in the mines of South Africa.
Youth/Student discount tickets are available by using the access code: STUDENT.