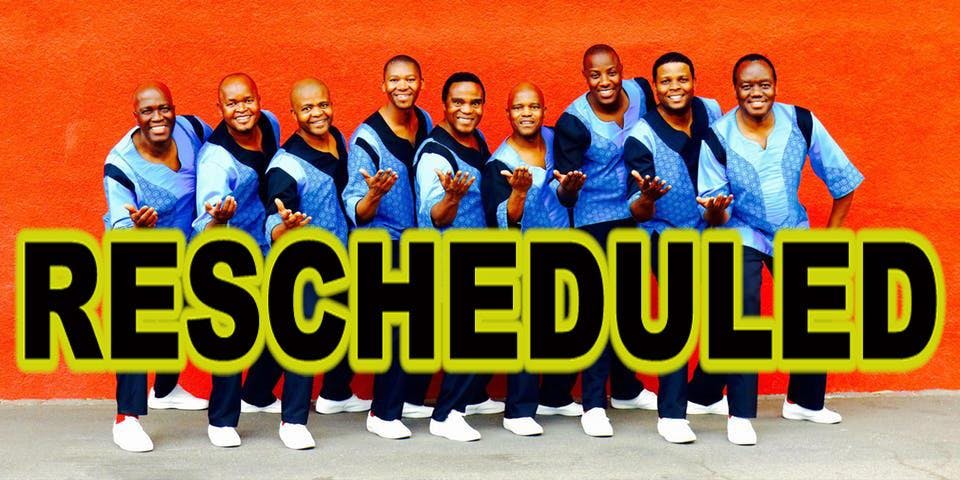 RESCHEDULED TO FRI, AUG. 7
Ladysmith Black Mambazo
$48.00 - $64.00
RESCHEDULED
On Freight & Salvage
Ladysmith Black Mambazo
THIS SHOW HAS BEEN RESCHEDULED TO FRIDAY, AUG. 7 at 8PM.
Due to unforseen circumstances, the Ladysmith Black Mambazo concerts on February 22 & 23 are being rescheduled to August. All tickets will be honored as follows:
Ticketholders who wish to attend the rescheduled date do not need to do anything except update your calendar and bring your original tickets, or your ID if your order was held at will call. If you cannot attend the rescheduled date, please contact the Freight & Salvage Box Office or call Eventbrite at 855-872-9849 for customer support..
From Ladysmith Black Mambazo:
It is with a very broken heart that we will have to reschedule some upcoming concerts to attend the funeral of our group's founder, as well as the father to several members, Joseph Shabalala. The group needs to depart the USA on Wednesday February 19 and will return to the USA Monday, February 24. Joseph passed away on February 11, 2020 and the family, in South Africa, has been arranging details for his funeral and have informed us of the now definite plans.
In the over thirty year concert touring history of Ladysmith Black Mambazo, this is only the second time we have had to cancel shows during a concert tour, that were not weather related. The last time was in 1998 when Joseph Shabalala's mother passed away and we were on tour of the UK. We apologize to the concert presenters and the ticket buyers who are affected by this. We hope they understand and forgive. Please let me know any concerns or issues. Thank you for your assistance in getting us through this sad occasion.
South Africa's Ladysmith Black Mambazo was founded in the early 1960s by Joseph Shabalala, then a teenage farmer living on the lands just outside the small town of Ladysmith. Shabalala used his hometown's name to honor his family's history and also added to his group's name the word 'black' in reference to the black oxen, the strongest of all farm animals. 'Mambazo' is the Zulu word for chopping axe, a symbol of the group's vocal ability to clear the path to success. The group sings from a traditional music called isicathamiya (is-cot-a-ME-Ya), which developed in the mines of South Africa.