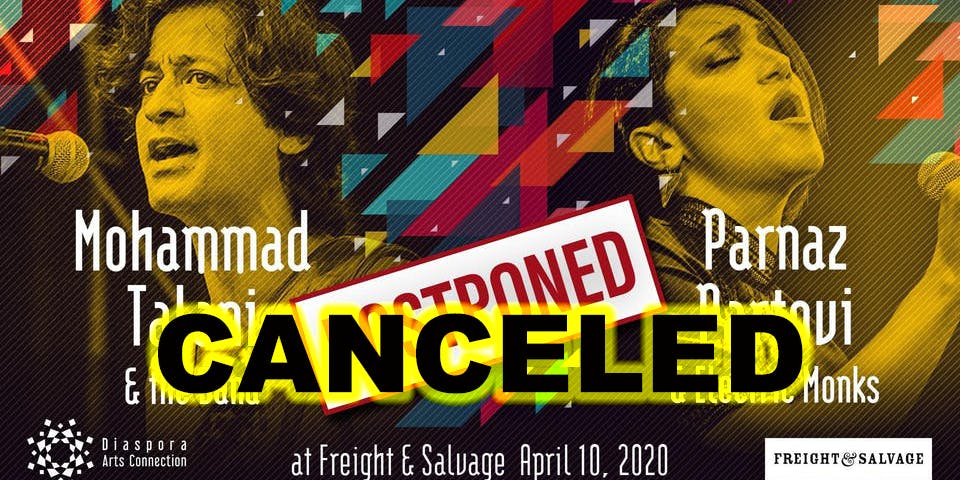 co-presented by Diaspora Arts Connection
Mohammad Talani | Parnaz Partovi & Electric Monks
Mohammad Talani | Parnaz Partovi & Electric Monks
THIS EVENT HAS BEEN CANCELED
*
*
*
TICKETHOLDERS: SEE YOUR EMAIL FOR OPTIONS or contact us by email. If you are able, we encourage you to consider converting your ticket purchase to a tax-deductible donation to The Freight, which will help our non-profit organization continue to thrive and pay artists. We simply cannot survive without donations.
**Postponed to November 13, 2020.**
Diaspora Arts Connection and Freight & Salvage proudly Mohammad Talani & the Band and Parnaz Partovi & Electric Monks. Join us for a great evening of music and community!
Mohammad Talani
Mohammad Talani (Talan), is a Berkeley-based musician and artist who has both performed independently and collaborated extensively with various bands and musicians including Mohsen Namjoo, Marcus Shelby, Eendoo, Kiosk, Ali Azimi, Shahrzad Sepanlou in roles of songwriter, producer and guitarist. As digital media director, he toured the globe for three years with Feathers of Fire, an award winning cinematic shadow play. He has directed and edited three seasons of Studio 13 a live music TV show featuring over 30 bands. Talan's new album, Alienation, will be released in 2020.
Parnaz Partovi & Electric Monks
Parnaz Partovi and Electric Monks music is rooted in Iranian music and modern poetry influenced by contemporary styles of rock, blues, Latin and Caribbean music. The band was founded by Parnaz Partovi and Shahin Baratpour in 2013. When Parnaz moved to Brooklyn in 2014, she started working with drummer and Kamancheh player Kaveh Haghtalab and guitar player Armin Antique. Together they have redefined the sound of the band based on each member's background in music and are actively producing new material in collaboration with Shahin Baratpour who resides in DC. The band is currently working on the release of two singles and touring around the U.S.
Diaspora Arts Connection
Diaspora Arts Connection is a non-profit organization that aims to foster deeper understanding and lasting connections among diverse cultural and ethnic groups in the San Francisco Bay Area and beyond through the organization of cultural and artistic events.
Youth/Student discount tickets are available by using the access code: STUDENT.