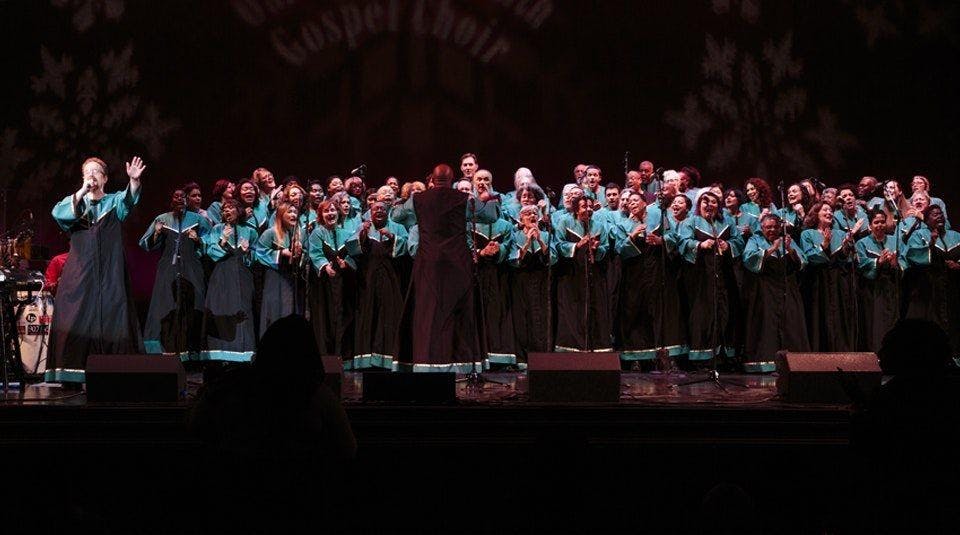 "Open Your Mouth, Say Somethin'!"
Oakland Interfaith Gospel Choir
$14.00 - $22.00
Sales Ended
Oakland Interfaith Gospel Choir
Terrance Kelly graces the stage at Freight & Salvage for the 6th year in a row! A history lesson through song, OIGC present a variety of music, from traditional to contemporary gospel, and performs Negro spirituals with an authenticity not often found outside of the South.
Season 34 - "Open Your Mouth, Say Somethin'!"
***
Under the direction of Emmy winner Terrance Kelly, the Oakland Interfaith Gospel Choir brings together singers and instrumentalists who embody a community of diverse races, cultures, and faiths. They also share an uncontainable passion for music. Their mission is to inspire joy and unity among all people through black gospel and spiritual music traditions. Judging by their audiences' reactions—clapping, cheering, and singing along—it is apparent that they succeed in that mission.
Now celebrating its 34th season, the Oakland Interfaith Gospel Choir was born out of a gospel music workshop led by the exuberant Terrance Kelly at Living Jazz's Jazz Camp West. It became an independent nonprofit organization in 1991, and since then, the award-winning choir's exquisite harmonies and stirring gospel repertoire have led to performances with a wide variety of esteemed groups, such as Joshua Nelson, the Prince of Kosher Gospel; the Blind Boys of Alabama; and the Duke Ellington Orchestra. OIGC also appears on Grammy-winning albums by Linda Ronstadt, MC Hammer, Tramaine Hawkins, and others.
To be certain, the best way to grasp the choir's greatness is to hear it in person. A current public performance calendar can be found at www.oigc.org
"You can hear it, too, when they sing. There are times when the voices pull together in just the right way to make one, booming voice. Suddenly the members can't help but jump to their feet and wave their hands and bounce and smile. "Haa-lee-luu-yah." It sounds as though they're shouting in key, and you feel the vibrations of it all." —Ryan Kost, San Francisco Chronicle