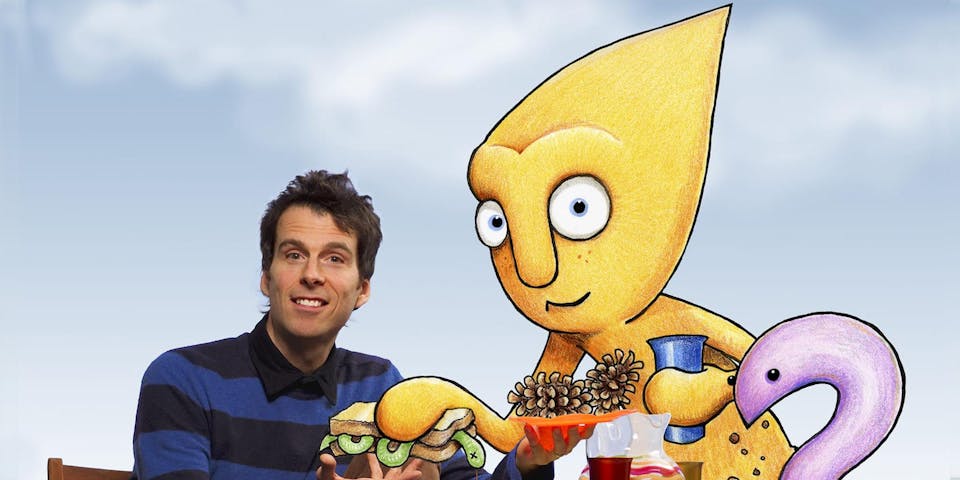 Patchwork Series: Gustafer Yellowgold
Patchwork Series
​Kids at the Freight programs are supported by DeYoe Wealth Management, with additional support from the Bill Graham Supporting Foundation of the Jewish Community Endowment Fund​,​ and the Friendship Fund.
Gustafer Yellowgold
Since his creation by Morgan Taylor in 2005, Gustafer Yellowgold has become an international phenomenon, acclaimed by The New York Times as "A cross between 'Yellow Submarine' and Dr. Seuss." Entertainment Weekly praised "…The most infectious original songs. It's like tapping into some pleasure center in the brain—both adult and kid… absurdly appealing."
Gustafer Yellowgold's Show is a funny and touching multimedia performance of live music, colored-pencil video animations and storytelling. With its unique crossover appeal, the show has been the wild-card opening act for Wilco and The Polyphonic Spree. Gustafer the character is a friendly creature who came to Earth from the sun and is living out an explorer's life in a slightly psychedelic version of the Minnesota woods.
Gustafer's adventures have branched out into two Audible spoken-word and music recordings. All 16 songs from the #1 best selling Audible Original "I'm From The Sun – The Gustafer Yellowgold Story" (produced by Wilco's Patrick Sansone) are also available as a digital, music-only collection.
We are delighted to have this Grammy-Nominated performer back to The Freight on Saturday March 21st!
Rudy Trubitt
Patchwork Series Host Rudy Trubitt spent five years touring the country with the psychedelic rock-and-roll circus that was The Sippy Cups. He loves the family audience and is delighted to bring outstanding local and national performers to the Freight stage.