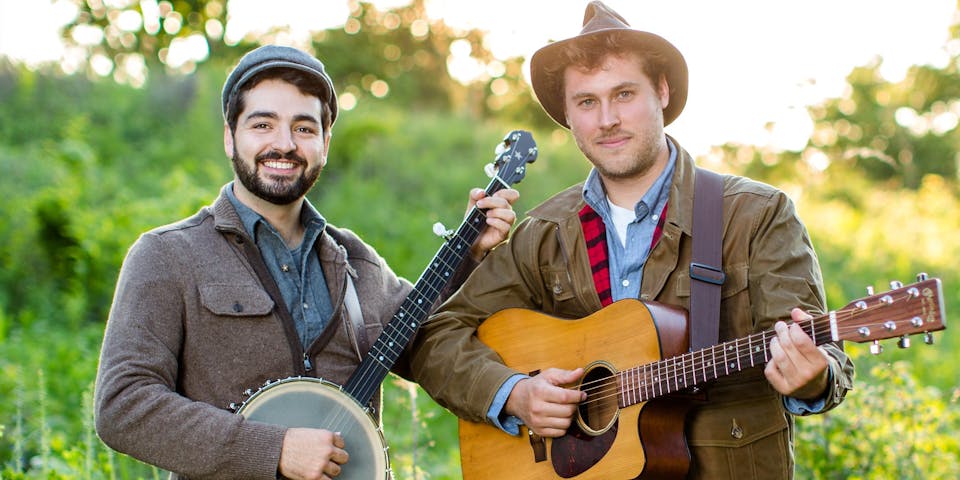 Patchwork Series: The Okee Dokee Brothers
The Okee Dokee Brothers
"Like the great Woody Guthrie, they've tapped into that magic quality of folk music to bridge the age gap and connect listeners young and old with their universal message." – UTNE Reader
The Okee Dokee Brothers return to the Patchwork Series on the heels of their fourth Grammy-nomination for their latest album Winterland. This exuberant, yet introspective collection of 16 original songs explores the wonders and beauty of winter. In a world where people are all too often pursuing their own individual journeys, Winterland humbly reminds us that we are all human beings living within the uncontrollable motions of Mother Nature. Embracing the cycles of loss and new life, darkness and light, bitter cold and warmth, Winterland reflects that winter is not only a season, but a feeling we carry within. As we weather the storm by looking inward, we can redefine our seasonal perspectives. In fact, with just the right outlook, winter can become our own sense of paradise, even through the warm months. Join the Okee Dokee Brothers as they welcome you to experience a refreshing, wide-eyed view of the most exciting time of year.
Rudy Trubitt
Patchwork Series Host Rudy Trubitt spent five years touring the country with the psychedelic rock-and-roll circus that was The Sippy Cups. He loves the family audience and is delighted to bring outstanding local and national performers to the Freight stage.
Patchwork Series
Since 2010, The Patchwork Series has brought regional and national family music performers to The Freight stage. Hosted by Rudy Trubitt, Patchwork welcomes musical styles from folk to calypso and hip hop to jazz. Kids at the Freight programs are supported by DeYoe Wealth Management, with additional support from the Bill Graham Supporting Foundation of the Jewish Community Endowment Fund,​ and the Friendship Fund.