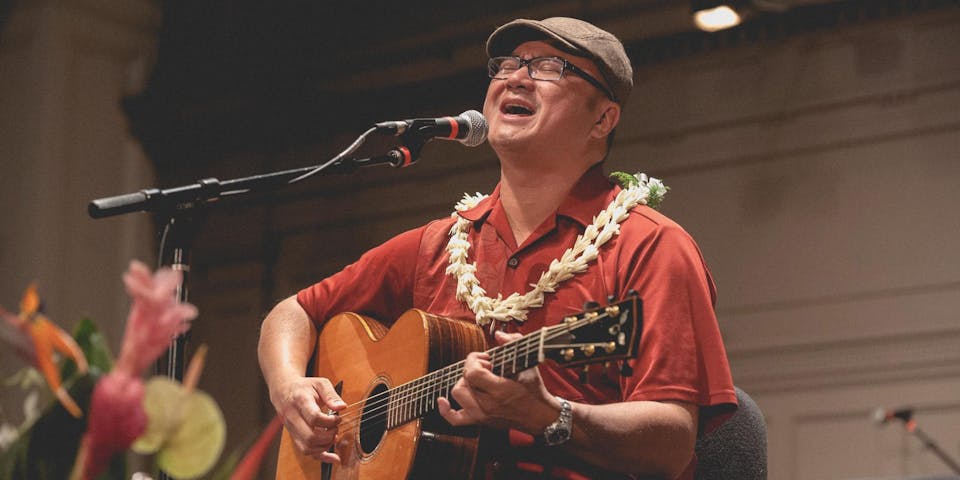 Patrick Landeza's CD Release Celebration
Patrick Kahakauwila Kamaholelani Landeza heard his calling at a young age. Having grown up thinking that all families threw backyard parties where their Hawaiian uncles played slack key guitar, he found that not only was this not the case, but that many mainlanders just didn't know much about Hawaiian music. Poised and ready to break the Don Ho stereotype, Patrick began learning slack key guitar from the likes of Raymond Kane, Cyril Pahinui, Dennis Kamakahi, and George Kuo as a teenager. His early training paid off. He became the youngest recipient of the prestigious Kapalakiko Aloha Spirit Award, and before the age of 40 he became one of the first mainland-based Hawaiian musicians to win a Na Hoku Hanohano Award (the Hawaiian "Grammy,") for his latest CD, "Slack Key Huaka`i." Having performed at Carnegie Hall last January and with several appearances on National Public Radio's "West Coast Live," Landeza has found himself filling some very big shoes. "I never really thought of myself as the purveyor of a cultural tradition, but it seems that things have turned out that way," he says. "Slack key is a beautiful art form. When people are finally exposed to it, they just fall in love with it." While maintaining the traditions of slack key, Patrick also offers something new on "Slack Key Huaka`i" - the unique integration of Hawai`i and California through song. Ultimately, the ability to meld these two influences originates from Landeza's acceptance of his own identity as a California-born Hawaiian.
Patrick currently lives in the Bay Area and teaches middle school Social Studies at St. Joseph School in Fremont, Ca. Through his production company, LandezaPresents, Patrick produces monthly Hawaiian music concerts around the Northern California with Hawaiian music's top performers. In his spare time, he has Landeza's Island Catering and makes his "Kanikapila Jams", with a blend of Hawaiian and mainland fruits. He currently has started making jewelry and sells them at his performances.