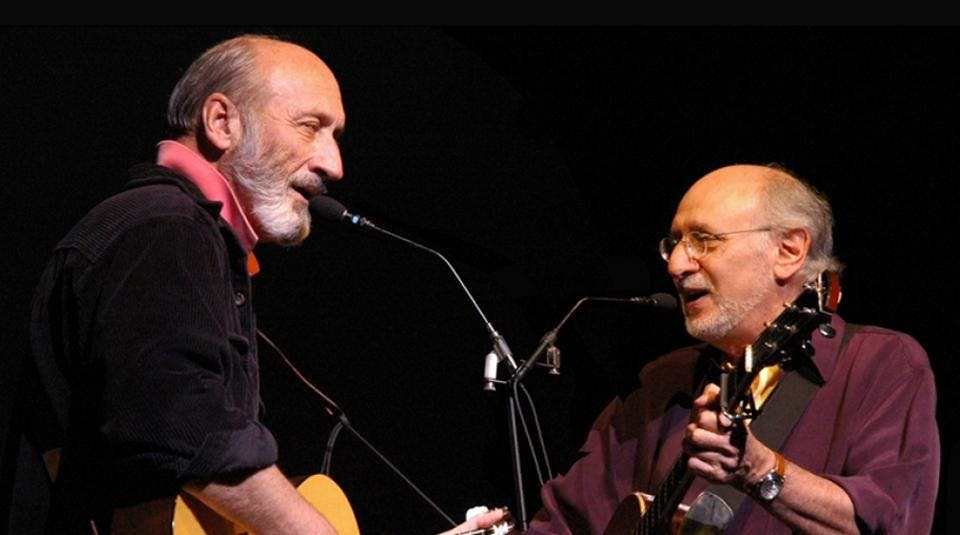 Peter Yarrow and Noel Paul Stookey at Freight & Salvage in Berkeley, CA
Peter Yarrow
Peter Yarrow was born in New York City in 1938. After college, he joined Mary Travers and (Noel) Paul Stookey to form the folk group Peter, Paul and Mary, and they toured for nearly 10 years. Yarrow actively participated in the civil rights and anti-war movements of the late 1960s and early '70s. After a hiatus, the trio reunited and toured continuously. In 2000, Yarrow formed the nonprofit organization Operation Respect.
Known best for his years with Peter, Paul, & Mary, Peter Yarrow is a lifelong musician and activist. During their career, the trio scored 12 top 40 hits including "Leaving on a Jet Plane", "Blowin' in the Wind" and Peter's composition "Puff (the Magic Dragon)".
Noel Paul Stookey
Singer, songwriter, and activist Noel Paul Stookey rose to prominence as the "Paul" in Peter, Paul & Mary, and has continued to spread his gospel of melding the spiritual to the practical in 45 albums over his illustrious career, including his most recent, One and Many, which ranges from romantic ballads to politically charged portraits to intimate meditations. The vocals, says folk critic Scott Alarik, "are strong and sweet, confidential even at peak emotion, as if singing only for you. He's never gotten enough credit for his elegant guitar, but that's largely because his arrangements aren't designed to impress, but to lead us inside the song." Daily Variety chimes in with more praise: "The warm, clowning humor and humanistic sensitivity which characterized the efforts of Paul Stookey in Peter, Paul & Mary remain in joyful abundance in his solo career as Noel Paul Stookey."
Noel grew up in the Midwest, moved to New York City when he was 20, and by 1963, when Martin Luther King delivered his "I Have a Dream" speech on the steps of the Lincoln Memorial, he was there with Peter and Mary to perform "Blowin' in the Wind" and "If I Had a Hammer." His career has taken him from the coffee house to the White House and back again. We couldn't be more excited to welcome him back to the Freight!