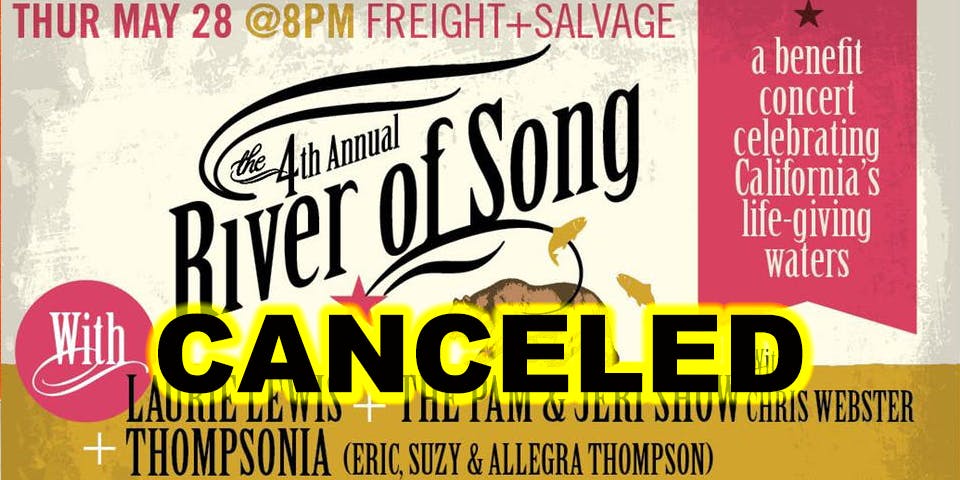 Proceeds to benefit Friends of the River and the Foothill Conservancy
River of Song: A Musical Celebration of California's Life-Giving Waters
Laurie Lewis, The Pam and Jeri Show w/Chris Webster, Thompsonia (Suzy, Eric & Allegra Thompson)
River of Song: A Musical Celebration of California's Life-Giving Waters
Proceeds from this concert benefit Friends of the River and the Foothill Conservancy, organizations that are dedicated to preserving and protecting, among other things, the East Bay's drinking water.
For more information on these organizations, visit their websites:
Laurie Lewis
"Her voice is a rare combination of grit and grace, strength and delicacy. Her stories are always true." - Linda Ronstadt
Laurie Lewis is one of the most acclaimed and accomplished performers on the acoustic-music scene today. A stirring vocalist, gifted songwriter, champion fiddler, and topnotch bandleader, she has won a Grammy and twice been named Female Vocalist of the Year by the International Bluegrass Music Association. With nearly 20 solo, duo, and band albums to her credit, she has just released Blossoms (Spruce and Maple Music), a winning collection of originals and covers that explores new territory while remaining true to her beloved Americana roots.
The Pam and Jeri Show w/Chris Webster
Pam Delgado and Jeri Jones, founding members of the rising Indie Americana band Blame Sally, have become an underground phenomena in the San Francisco Bay Area. Combine equal parts humor, raw emotion, unparalleled musicianship and life's lessons the result is The Pam and Jeri Show. Their original songs have had national airplay including feature and mainstream rotation on San Francisco's KFOG and Starbucks XM Cafe.
Chris Webster is a soul singer. Her voice conveys a passion that connects with the longings of her audience. She expresses sometimes-troubled feelings that everyone understands. But Webster goes beyond pain to hope; her voice can be a compassionate balm to the troubled soul. Performing live, her intensity brings a hush to every room she plays. Those who see her hear it: Chris Webster is the real deal, a singer who transcends genre.
Thompsonia (Suzy, Eric & Allegra Thompson)
Thompsonia combines Eric & Suzy Thompson's deep devotion to old-time, bluegrass, Cajun and acoustic blues with daughter Allegra's fresh perspective, creating feel-good music that richochets between the rowdy and the sentimental, with an abundance of groove and a bit of a quirky edge. The band features the genetically-matched vocals of Suzy and Allegra (Geoff Muldaur has dubbed this "The Everly Sisters sound") along with stellar lead playing from Eric on mandolin and guitar, Suzy's red-hot fiddling and Allegra's rock-steady upright bass.
Youth/Student discount tickets are available by using the access code: STUDENT.