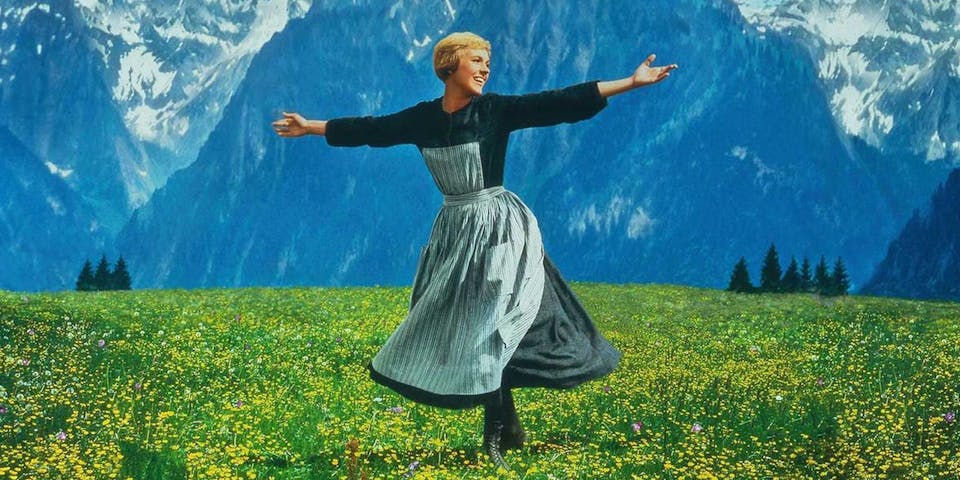 adults-only Sing-Along with costume contest & more campy fun
Sing-A-Long-A Sound of Music
Margaret Belton
Sing-a-Long-a Sound of Music hosted by Margaret Belton - adults-only Sing-Along with costume contest & more campy fun!
Sing-a-Long-a Sound of Music
Yes, it's been around the World, and now it's coming to Freight & Salvage!
Having started in the UK back in 1999 Sing-a-Long-a Sound of Music has now become a worldwide phenomenon, playing to packed houses across the globe! It even filled the Hollywood Bowl in Los Angeles!
Let's start at the very beginning (a very good place to start)…
For those of you not yet converted, Sing-a-Long-a Sound of Music is a screening of the classic Julie Andrews film musical in glorious, full-screen technicolor, complete with subtitles so that the whole audience can sing along!
The fun-filled evening starts with a vocal warm-up led by your host for the night, who will also take you through your complimentary 'magic moments fun pack' containing various props to be used at strategic points throughout the show.
Then of course there is the famous fancy-dress competition in which everyone who has come in costume is invited onto the stage to show off their fantastic tailoring skills. And the more venues we play, the more elaborate the costumes get. Previous entries have included:
• Nuns of both genders (including a pregnant nun!)
• Ray a drop of golden Sun (in a gold lycra catsuit)
• Girls (and boys) in white dresses with blue satin sashes
• A lonely Goatherd!
So get those vocal chords warmed up, cut up those chintz curtains and hurry down for another dose of the international smash-hit show! It's the perfect night out for family trips, hen parties, office outings or anyone who has ever shed a tear during 'Edelweiss'! Book early because this show sells out.
Fancy dress is not obligatory but highly recommended!
"IF YOU'VE ALWAYS WANTED TO BE A PART OF A MUSICAL, THIS IS YOUR CHANCE!"

Margaret Belton
Margaret Belton is that rare artist who fuses her exceptional talent with a genuine warmth that makes audiences feel they're part of the family. A true renaissance woman, She is a songstress, theater and film actor and a visual artist. She has starred in many independent films, theater productions and crooned various stages around The Bay Area and beyond. She founded her Patsy Cline Tribute band called 'The Patsychords' in 2011 and has accomplished four rounds of her critically acclaimed portrayal of Patsy Cline in 'Always… Patsy Cline'. Margaret continues to croon, perform and collaborate with other artists near and far. Some of Margaret's favorite things are music, theme parties, old films and the gathering of friends, family and community. So she is just over the moon to be hosting the Freight & Salvages debut of the Sound Of Music Sing-A-Long.