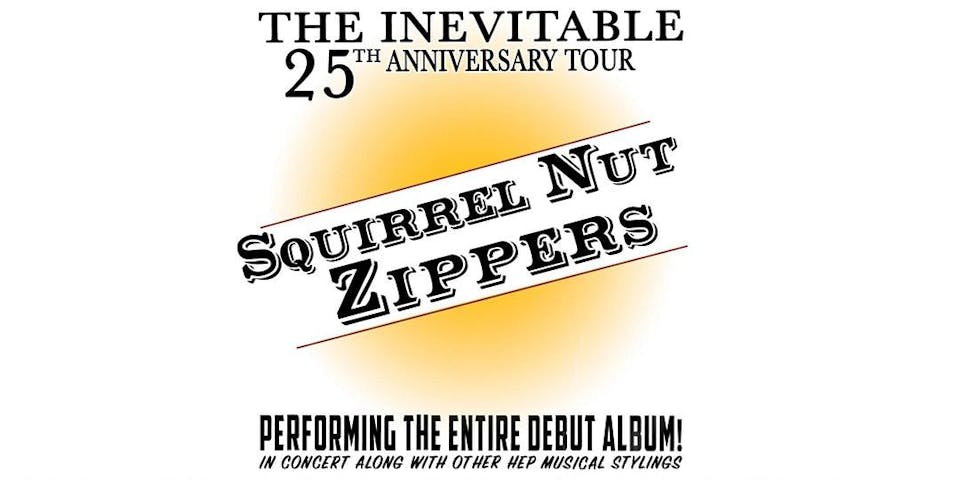 Squirrel Nut Zippers
$34.00
On Freight & Salvage
Squirrel Nut Zippers: The Inevitable 25th Anniversary Shows
We all saw it coming, didn't we? I guess it was truly "inevitable" in every sense of the word. The Squirrel Nut Zippers will kick off 2020 their contractually obligated "The Inevitable 25th Anniversary Shows."
Band leader Jimbo Mathus had this to say about the upcoming dates: "I got a call this summer from our lawyer Shorty Brown who informed me that in the original contract we signed with Mammoth Records we were contractually obligated to do a 25th anniversary tour for our debut album The Inevitable. That just goes to show you kiddos, always read the fine print."
Since reactivating in mid-2016 the Squirrel Nut Zippers have been performing to packed houses across the country and around the world. As Jimbo Mathus has said since the band's re-launch, 'it's not a reunion, it's a revival.'
The Squirrel Nut Zippers most recent studio album titled Beasts Of Burgundy was released in 2018. The album debuted at #4 on the Billboard Jazz Albums Chart upon it's release. It was back in 1998 when the Squirrel Nut Zippers released their first and only Holiday album titled Christmas Caravan which went on to sell a quarter of a million copies and reached #12 on the Billboard Holiday Albums chart.
"There is, of course, jazz of various stripes (mainly pre-WWII varieties) on this deliciously wide-ranging comeback, but there's so much more: sounds, identifiable and not, emanating from mysterious times and places, not the least of which is New Orleans, their home base, a land that, forever and still, has a mind of its own." – Relix
Between 1995-2000 the Squirrel Nut Zippers sold over three million albums. With grunge, and alternative rock in full swing back in 1995, the Squirrel Nut Zippers debut album The Inevitable sounded like nothing happening musically at the time. NPR was the first to take notice followed by an appearance on Late Night With Conan O'Brien. The band toured their debut album heavily in North America during 1995 and 1996.