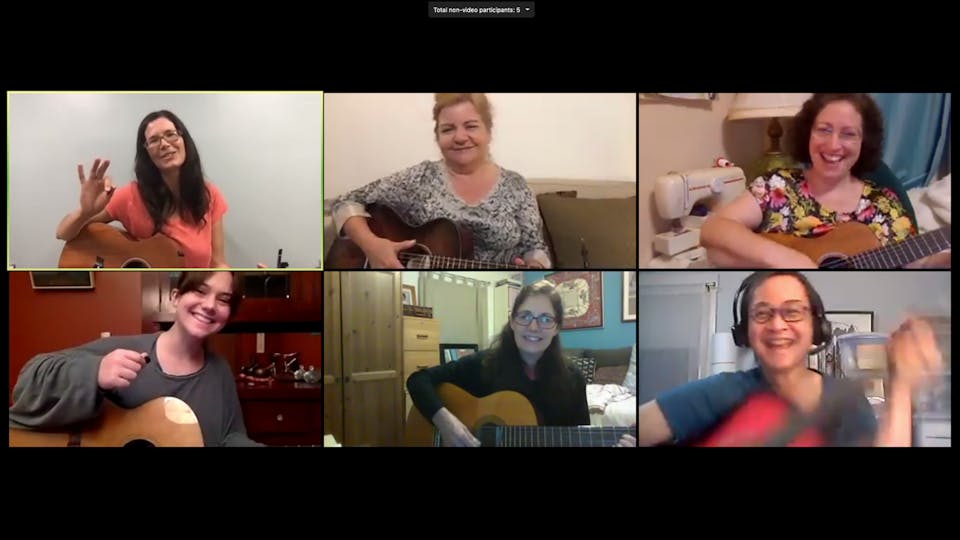 Class runs from 11/11-12/16
Strum & Sing ONLINE w/Tamsen Fynn
Tamsen Fynn
Strum & Sing ONLINE w/Tamsen Fynn
THE ZOOM LINK FOR ACCESS TO CLASS SESSIONS WILL BE IN YOUR CONFIRMATION EMAIL. PLEASE REGISTER WITH AN EMAIL ADDRESS YOU CHECK REGULARLY.
"I started with Tamsen's Singing Circle, and enjoyed singing there so much — it was just for fun, without the pressure of a performance, and Tamsen's so upbeat and patient and encouraging and the group's so supportive — I wanted to try Strum and Sing. I learned the four chords required right before I started the class and yeah, I sweated and frowned and looked around furtively when I didn't play the right chord to see if anyone heard and my fingertips hurt after each class, but the songs were great and however badly as a rank beginner, I was singing and playing! Now with shelter-at-home, it means so much to be able to close all the work tabs on my computer, tune up, and get onto zoom to see everyone's face as we do something fun and enjoyable and all together at the end of the day. Playing while sheltering, I can hear each and every one of my mistakes, but also really hear my own voice, and it's a gift."
When I started leading the Freight & Salvage Women's Singing Circle in 2011 I wanted a group that sang together for joy, levity, and comfort. We warm up just enough, learn technique just enough, and practice the melody and harmony just enough to sing beautifully together.
I have taught music for more than twenty years, completed my MA in education in 2015, and have plenty of empathy for anyone struggling to learn something uncomfortable or new because of my own struggles in various classes. My aim is to offer the most helpful, effective instruction while making as much music as we can..
'If you can laugh, you can sing'… we will do both! Find your voice in the context of a nurturing group if you are a beginner, and build on your skills if you are comfortable singing but would like the opportunity to gain more confidence to stretch vocally. And if you lean toward practicality, give your organs a massage with deep breathing, lower your stress and anxiety levels, and elevate your mood.' -Tamsen Fynn, song leader
· Laugh & Sing!
· Warm-Ups develop breath control, warmer tone, wider range, and vocal power
· Open your voice with creative techniques
· Learn melodies and harmonies by ear
· Folk, pop, rock, rounds, & jazz standards
· Learn a wide array of new songs and revisit old favorites in our songbook
"Tamsen Fynn's singing circle has been lifting my heart for years now. One of the silver linings of the COVID nightmare was having the chance to join some classes via Zoom that I would not have otherwise been able to make. Up above our heads, there is music in the air, and no one is better at reminding us of that than Tamsen."
"Tamsen's women's singing circle continues to be a place of joyful community, even online. Singing cool songs together, with humor and warmth, brightens my day during this challenging time. I highly recommend joining this circle to lift your spirits! I also love the chance to practice singing harmony with Tamsen's beautiful voice on each song— that's a silver lining to the zoom format. It's a chance to breathe deeply and let the music touch my soul."
"If you've ever wanted to harmonize with a fantastic singer, here is your chance! On zoom we all sing together, but we hear ourselves plus Tamsen. It's a really good way to listen to your own voice, but in the (virtual) company of others! Whether on zoom or in person, Tamsen is super fun to sing with!"
"I have been attending Tamsen's women' singing classes at the Freight for quite a few years now, and every single time i get to be a part of a Tamsen singing circle, i feel happy and alive, and able to access a range of emotions that i tend to foreclose myself from, when life becomes busy or troubled or rushed. It has been striking to me that Tamsen has been able to transition to working in the ZOOM medium with a relatedness that seems totally natural and seamless. Inspiring a group of folks to sing with her, in a way that elicits motivation and spiritedness, and even a group feeling, when we are all alone "sheltering in our own places," is miraculous !! It's fun singing with Tamsen, and being infected by her love of music. Tamsen is a gifted, generous, talented teacher. She can get the group singing in three part harmony on a new song in a remarkably short period of time. In addition to her skill as a singing teacher, Tamsen is one of the loveliest, funniest, and most joyful people i know. And she has demonstrated remarkable competence with technology, on which we have all become totally dependent, as the Freight has had to close its doors."
"Not only were the in-person classes well-organized, instructive, and enjoyable; Tamsen herself is a multi-talented musician with a lovely voice, an informative background founded in both musical theory and teaching techniques, and she has a kick ass solid sense of humor that keeps the classes fun, even as we - and by that I mean me,- novice singers/guitarists try on new levels of techniques. (In fact, she actually inspired me to bring more enthusiasm to my own teaching, as I was reminded how important that energy can be for students!) There was nothing but encouragement from Tamsen and the other wonderful women in the classes that were truly the highlight of my week, when I would make the trek to Freight and Salvage to be in that room and lift our voices together. Now that we've transitioned to online, the classes still provide a sense of community during these distressing and challenging times, and Tamsen has stretched her organizational techniques to even greater levels with not only the Zoom classes themselves, but also creating Youtube videos and emailing printouts for her songs and strums. Even if you don't aspire to performance-level technique, just joining these classes under Tamsen's kind guidance and enjoying the community is well-worth your time! "
"A welcoming singing group for all levels, even the most beginning of beginners! Tamsen is a highly-skilled vocalist and musician but also the friendliest. She sets the tone for a no-pressure atmosphere which somehow enables us to become better singers! Great class!"
"Before I took Tamsen's Women's Singing Circle class, I worried I would never be able to sing tunefully or with any sort of range. My high school choir experiences (as an alto, many years ago) had been dispiriting and discouraging. After learning a few basic techniques from Tamsen, I was relieved at how easy and natural singing could be. With her techniques, it is no longer a strain to sing on-pitch or higher than I previously thought I could. I'm no longer embarrassed about my singing voice! Measured in terms of improvement, this is one of the most effective short classes I've ever taken."
"It's amazing to me that I could become a good singer and learn how to sing harmony by having so much FUN. Tamsen is the very best facilitator ever, she's truly gifted at how she leads this group. (And I know this from experience, I've spent my life teaching and written a book on the subject!) This class is not work, it's pure joy. It's so joyful that after each class, I have a happy heart for days afterwards."
"Want to sing but unsure of your ability or have experience but miss the joy of singing with others? Either way, this class is perfect for you. This is the most positive group of women I have ever been associated with, "where seldom is heard a discouraging word"! I recorded the class and sent it to another classmate. Her husband's comment after he overheard her listening to it was, "You laugh a lot in that class!" and it is a blast."
"As someone who hadn't sung since early childhood, I felt instantly welcomed and warmly accepted by Tamsen and our group. We all have different levels of musical expertise and ability but it matters not….we make beautiful music together! I have become so much more confident and joyful in my singing through our weekly get-togethers. If you have often thought to yourself, "I'd really like to do more singing," then this is truly the best place to do just that!"
"Singing with Tamsen and the Women's Singing Circle is one of the highlights of my week. Singing with the group is fun and a great stress reducer, I always leave feeling rejuvenated. I love learning new songs and remembering old ones. Tamsen holds the classes with grace and good humor, encouraging safety within the group. There are plenty of opportunities for growth and camaraderie. A sweet sweet time!"
Tamsen Fynn
A musician and educator, Tamsen Fynn has a strong background in many styles of singing: from rock, folk, and children's music to classical, jazz, and gospel. A performer in the Bay Area since 1995, she currently writes music and sings in a 3-piece band and leads the women's singing circle and strum & sing at The Freight & Salvage. Tamsen has an MA in education and has written, recorded, produced, and released material for seven cds. She also co-owns Morell's Bread with her husband, Eduardo Morell, making traditional sourdough breads for the Thursday and Saturday Berkeley Farmers' Market.