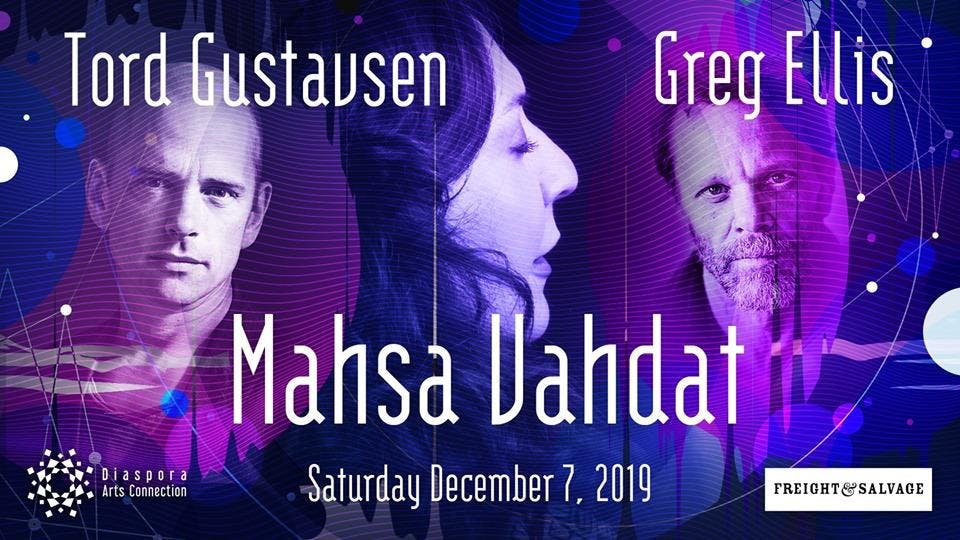 co-presented by Diaspora Arts Connection
Tord Gustavsen, Mahsa Vahdat, & Greg Ellis
Diaspora Arts Connection
$20.00 - $55.00
Sales Ended
Tord Gustavsen, Mahsa Vahdat, & Greg Ellis co-presented by Diaspora Arts Connection at Freight & Salvage in Berkeley, CA
Mahsa Vahdat, Tord Gustavsen & Greg Ellis
"Stunningly beautiful, draws the listener in so completely – making us consider each note, each small gesture in its ethereal, shimmering whole" -DownBeat
Diaspora Arts Connection and Freight & Salvage proudly present the return of world musicians Mahsa Vahdat, Tord Gustavsen, and Greg Ellis to the San Francisco Bay Area. The concert features Iranian vocalist Mahsa Vahdat's own melodies to poems by the classical Persian poets Khayyam, Hafez and Rumi, with arrangements and piano improvisations of world renowned jazz pianist Tord Gustavsen, and accompanied by master percussionist Greg Ellis.
Tord Gustavsen
"stunningly beautiful, draws the listener in so completely – making us consider each note, each small gesture in its ethereal, shimmering whole" (DownBeat)
Pianist Tord Gustavsen has released four albums on ECM Records with his ensemble and trio; "Changing Places" (2003), "The Ground" (2005), "Being There" (2007) and "Restored, Returned" (2009/2010). His music has been met by a huge volume of critical approval around the world (cf. Critics). The recent release also won the Norwegian Grammy Award (Spellemannsprisen).
Mahsa Vahdat
Mahsa Vahdat is a prominent performer of Persian vocal music and strong advocate of freedom of expression in music ,a dedicated singer and musician in her musical path and artistic cause . Her career has given a deeper knowledge about Iranian poetry and music to large audiences in Europe, America, Asia, Oceania and Africa.
Mahsa has developed her personal style based on the Persian vocal tradition of classical and regional folk music, but with a contemporary expression. She has always searched for ways to make her music relevant to the present world. Even if the origin of her styles is Iranian, she believes in her music's ability to express a universal message of humanism and freedom. Her collaboration with musicians from Iran and many other parts of the world has contributed to the development of her personal expression.
Greg Ellis
Greg Ellis is a master drummer, multi-instrumentalist and composer who has recorded and performed with some of the greatest musicians and drummers in the world. His work can be heard in the major motion pictures "The Matrix: Reloaded" and "The Matrix: Revolutions," "Fight Club," "Lara Croft: Tomb Raider," "Dawn of the Dead," "City of Ghosts," "Dukes of Hazzard," "The Chronicles of Narnia," "Brave Story," and "300. As well as recording with such diverse artists from Beck to Billy Idol, he co-founded and released four critically acclaimed albums from the world music group VAS, and released a CD of his own compositions titled "Kala Rupa."
Diaspora Arts Connection
Diaspora Arts ConnectionDiaspora Arts Connection (DAC) is a nonprofit organization dedicated to enriching the San Francisco Bay Area community through nurturing artists of diaspora.