Class runs from 9/13-10/18.
Understanding the Guitar Fretboard ONLINE w/Kay Eskenazi
Kay Eskenazi
$139.50 - $155.00
Sales Ended
Understanding the Guitar Fretboard: How to Play and Use Scales; How to Build Any/Every Chord ONLINE w/Kay Eskenazi
YOU WILL RECEIVE A ZOOM LINK FROM YOUR TEACHER VIA EMAIL BEFORE YOUR FIRST CLASS. PLEASE REGISTER WITH AN EMAIL ADDRESS YOU CHECK REGULARLY.
Play more expressively and thoughtfully by learning the logic of the guitar fretboard! Understand what the fretboard has to offer, and become a more resourceful, flexible player.
Topics include: Music Theory as applied to guitar; intervals on the strings and frets; chord naming and building; Major, Minor, and Pentatonic Scale Forms; Arpeggios; how to use Scales and Arpeggios.
Online meeting activities include: Explanation of guitar fretboard; presentation of Music Theory as related to fretboard layout; demonstration of techniques for building any and every chord voicing; instruction in Scale playing and usage.
Each student who completes this course will be well on the way to multiplying chord vocabulary by 100 times.
Prerequisites: Please know how to play at least ten chords, and to change them without missing beats.
A class materials fee of $10 will be collected electronically by instructor before the first meeting. Course materials will be emailed to students as PDFs.
Kay Eskenazi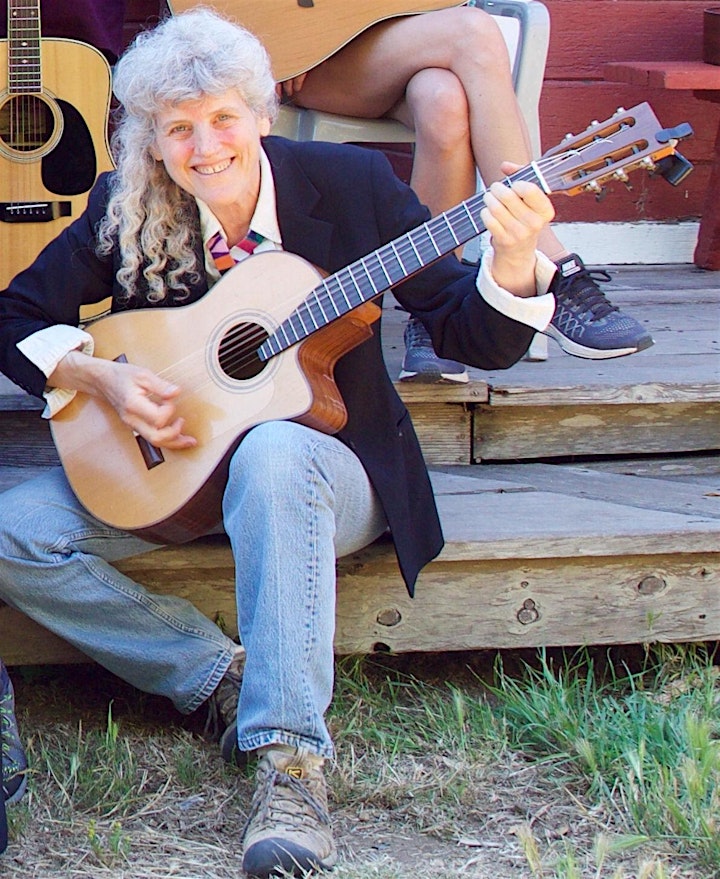 Kay Eskenazi creates an inclusive, supportive learning environment, observes students closely, and responds to students' individual challenges. She teaches Music Theory and many styles of guitar including: Fingerstyle, Pop, Folk, Classic Rock, Jazz, Brazilian, Classical, and Ensemble. Kay helps students develop excellent technique and musicianship skills. She teaches at studios, camps, and colleges throughout the Bay Area.