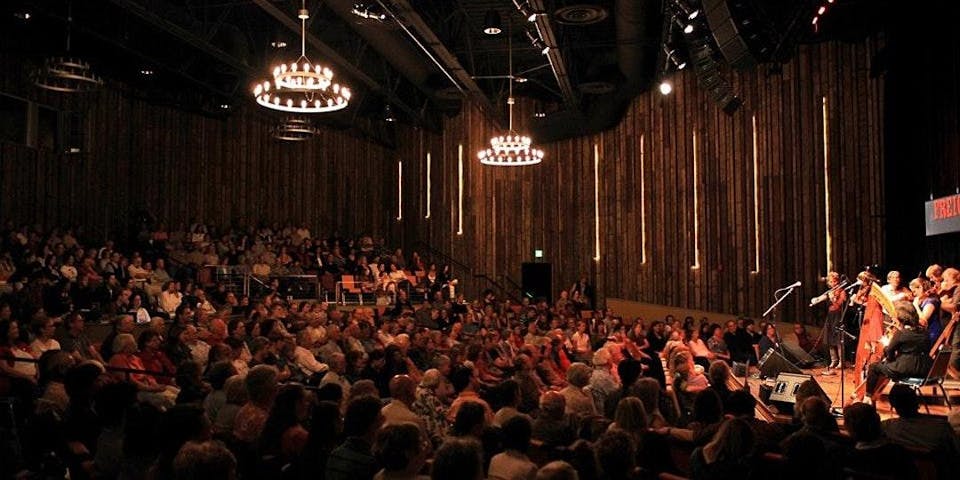 Women's Singing Circle (MONDAYS) ONLINE w/Tamsen Fynn
Tamsen Fynn
$145.00
On Freight & Salvage
Women's Singing Circle (MONDAYS) ONLINE w/Tamsen Fynn
"When I started leading the Freight & Salvage Women's Singing Circle in 2011 I wanted a group that sang together for joy, levity, and comfort. We warm up just enough, learn technique just enough, and practice the melody and harmony just enough to sing beautifully together.
I have taught music for more than twenty years, completed my MA in education in 2015, and have plenty of empathy for anyone struggling to learn something uncomfortable or new because of my own struggles in various classes. My aim is to offer the most helpful, effective instruction without getting bogged down in theory.
'If you can laugh, you can sing'… we will do both! Find your voice in the context of a nurturing group if you are a beginner, and build on your skills if you are comfortable singing but would like the opportunity to gain more confidence to stretch vocally. And if you lean toward practicality, give your organs a massage with deep breathing, lower your stress and anxiety levels, and elevate your mood.'"
-Tamsen Fynn, instructor
· Laugh & Sing!
· Warm-Ups develop breath control, warmer tone, wider range, and vocal power
· Open your voice with creative techniques
· Learn melodies and harmonies by ear
· Folk, pop, rock, rounds, & jazz standards
· Learn a wide array of new songs and revisit old favorites in our songbook
"Tamsen's Singing Circle is the best night of my week, I always leave happy and energized, with music in my head. The glow lasts."
"Tamsen's Women's Singing Circle is a wonderful and inclusive group that simply celebrates the joy of singing. No pressure, no judgement, just fun!"
"A welcoming singing group for all levels, even the most beginning of beginners! Tamsen is a highly-skilled vocalist and musician but also the friendliest. She sets the tone for a no-pressure atmosphere which somehow enables us to become better singers! Great class!"
"Before I took Tamsen's Women's Singing Circle class, I worried I would never be able to sing tunefully or with any sort of range. My high school choir experiences (as an alto, many years ago) had been dispiriting and discouraging. After learning a few basic techniques from Tamsen, I was relieved at how easy and natural singing could be. With her techniques, it is no longer a strain to sing on-pitch or higher than I previously thought I could. I'm no longer embarrassed about my singing voice! Measured in terms of improvement, this is one of the most effective short classes I've ever taken."
I've sung everything from folk, rock, and pop, to jazz, gospel, and world music, as well as having the good fortune to study classical singing in high school and college. I've been performing in the Bay Area since 1995. I've written, recorded, produced, and released material for seven cds; five with my family band Orange Sherbet, and two as an indie-folk singer/songwriter.
"It's amazing to me that I could become a good singer and learn how to sing harmony by having so much FUN. Tamsen is the very best facilitator ever, she's truly gifted at how she leads this group. (And I know this from experience, I've spent my life teaching and written a book on the subject!) This class is not work, it's pure joy. It's so joyful that after each class, I have a happy heart for days afterwards."
"Want to sing but unsure of your ability or have experience but miss the joy of singing with others? Either way, this class is perfect for you. This is the most positive group of women I have ever been associated with, "where seldom is heard a discouraging word"! I recorded the class and sent it to another classmate. Her husband's comment after he overheard her listening to it was, "You laugh a lot in that class!" and it is a blast."
"As someone who hadn't sung since early childhood, I felt instantly welcomed and warmly accepted by Tamsen and our group. We all have different levels of musical expertise and ability but it matters not….we make beautiful music together! I have become so much more confident and joyful in my singing through our weekly get-togethers. If you have often thought to yourself, "I'd really like to do more singing," then this is truly the best place to do just that!"
"Tamsen's women's singing circle is what got me singing again as an adult. Her class was pure joy; it became the highlight of my week. The singing circle turned me on to a lot of folk and American traditional music, which I found I had a real affinity for. I love the songs in her songbook and Tamsen also provides voice instruction in her classes, which I found very helpful. The singing circle can be addicting so be forewarned! Many of her students continue to return to her classes years after they first started singing with Tamsen and even meet outside her classes to continue to sing together from her songbook in the harmonies Tamsen taught in her classes."
"Singing with Tamsen and the Women's Singing Circle is one of the highlights of my week. Singing with the group is fun and a great stress reducer, I always leave feeling rejuvenated. I love learning new songs and remembering old ones. Tamsen holds the classes with grace and good humor, encouraging safety within the group. There are plenty of opportunities for growth and camaraderie. A sweet sweet time!"
Tamsen Fynn
A musician and educator, Tamsen Fynn has a strong background in many styles of singing: from rock, folk, and children's music to classical, jazz, and gospel. A performer in the Bay Area since 1995, she currently writes music and sings in a 3-piece band and leads the women's singing circle at The Freight & Salvage. Tamsen has an MA in education and has written, recorded, produced, and released material for seven cds. She also co-owns Morell's Bread with her husband, Eduardo Morell, making traditional sourdough breads for the Thursday and Saturday Berkeley Farmers' Market.