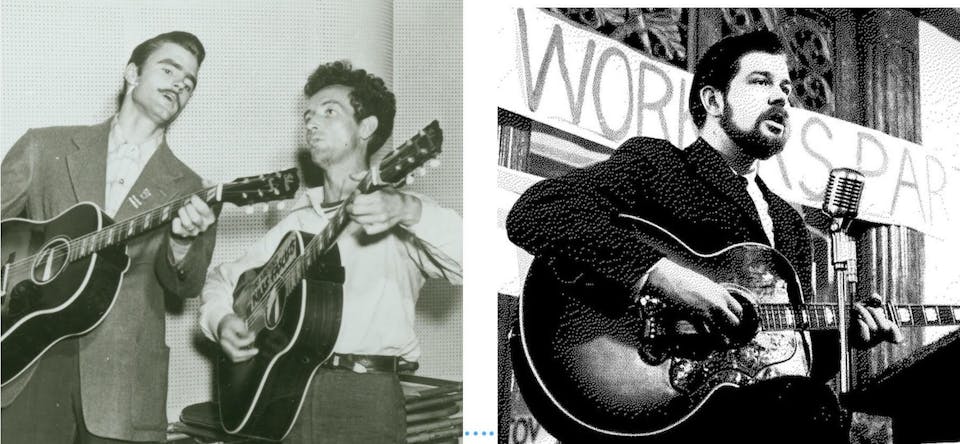 Woody & Dave: From the Red Scare to the Great Folk Scare ONLINE w/Aaron Leo
Woody & Dave: From the Red Scare to the Great Folk Scare ONLINE w/Aaron Leonard
Aaron Leonard
Woody & Dave: From the Red Scare to the Great Folk Scare ONLINE w/Aaron Leonard
Your Zoom link will be at the bottom of your confirmation email from Eventbrite, after registering.
Woody & Dave: From the Red Scare to the Great Folk Scare ONLINE w/Aaron Leonard
Saturday January 23, 2021 at 11am and Saturday January 30, 2021 at 11am (two parts).
Woody Guthrie & Dave Van Ronk were among the most influential folk singers of the twentieth century—Guthrie, whose canon continues to shape music today, and Van Ronk, an early mentor of Bob Dylan and others in the folk revival of the early sixties. Both were also political partisans, leading the FBI to keep extensive files on them. Using abundant music, uniquely obtained FBI files, and video footage, the lectures will bring to life the links and intrigue between the Second Red Scare and the Great Folk Scare of the sixties.
Mr. Leonard will conduct this lecture for the Freight live via Zoom.
Aaron J. Leonard is a writer and historian with a particular focus on the history of radicalism and state suppression. He is the author of Heavy Radicals: The FBI's Secret War on America's Maoists and A Threat of the First Magnitude—FBI Counterintelligence & Infiltration: From the Communist Party to the Revolutionary Union. Leonard has a BA in history from New York University and lives in Los Angeles.