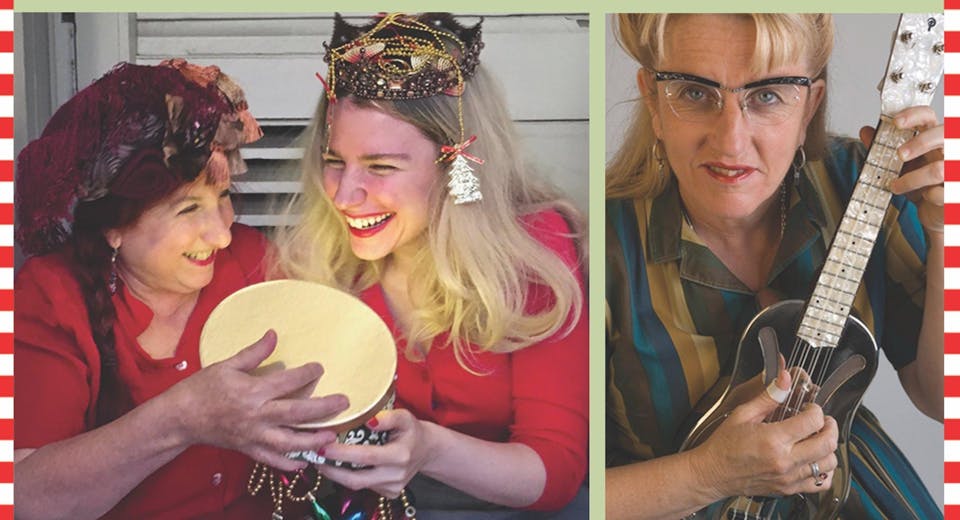 Xmas Blues
Meredith Axelrod, Suzy Thompson, with special guest Del Rey
$10.00 - $20.00
Sales Ended
Xmas Blues Feat. Meredith Axelrod and Suzy Thompson with special guest Del Rey at Freight & Salvage in Berkeley, CA
Xmas Blues
A fun-filled holiday show with famed fiddler and blues shouter Suzy Thompson, riveting vocalist Meredith Axelrod and resonator guitar/ukulele goddess Del Rey, featuring blues songs about Christmas and wintry weather — vintage gems like "Christmas In Jail", "Santa Claus Blues" and "Cold Morning Shout". These three blues/roots divas love to play music together, and you're invited to the party!
Suzy Thompson is one of the rare musicians today who has mastered multiple styles of Southern fiddling, from prewar acoustic blues to Cajun and Creole to old-time fiddle, especially the kind that has a ragtime or blues feel. A powerful blues singer in the styles of Memphis Minnie and Bessie Smith, and a highly respected blues fingerpicking guitarist, Suzy is unique in her ability to combine fiddle, vocals and guitar in the blues, oldtime country and ragtime idioms.
"It takes more than passion to do what Meredith does. It takes guts; conviction. She is unflinchingly committed to authentic recreation of the tunes in her repertoire–swampy blues and early American roots music." – Gary Rametta
Delightfully engaging and unassumingly comic, Meredith Axelrod envisions the limitless potential of early twentieth century music, whether it be Ragtime, Music Hall, Pop Standard, Boogie Woogie, Tin Pan Alley, String band, Jazz, Country, Blues or even Jug Band music, and embodies the spirit that brought the music into existence in the first place. Her vocal style is unusual, probably because she learned to sing by listening to how folks did it a century ago – through the medium of cylinders and 78-rpm records.